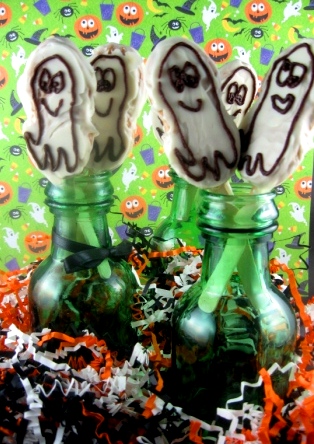 When my son saw these "spooky" ghosts pictured on the front of my Taste of Home Halloween magazine, he asked me if we had "all the ingredients we needed" in order to make them. As it turned out, we did. Not only were these super cute, but they were also super simple. My favorite combination!
We are hosting a small Halloween party this weekend for my son and a few of his friends…sort of surprising, since I've never really cared much for Halloween. The Doodlebug is excited though, so that alone makes this worth it. Anyhoo, I'm looking for ideas from you guys on menu planning and activities, since I'm sort of a Halloween party novice.
What are your favorite Halloween party foods and games? I'd love to hear!
Peanut Butter Ghosts

Ingredients

1 package white candy melts
1 package Nutter Butter cookies
1 package semi-sweet chocolate chips
craft sticks

Directions

Melt candies in a microwave safe bowl, stirring occasionally. Dip cookies into coating, covering completely. Set on wax paper to dry. Using additional melted candy, secure a craft stick onto the back of each ghost and let dry.

In another microwave safe bowl, melt chocolate chips and let cool 2 to 3 minutes. Transfer chocolate into a piping bag with a #2 tip; pipe on outline and face.

[print_link]
Previous Post: Beer Marinated Pork Chops