Apple Pie Chex Mix – and Back to School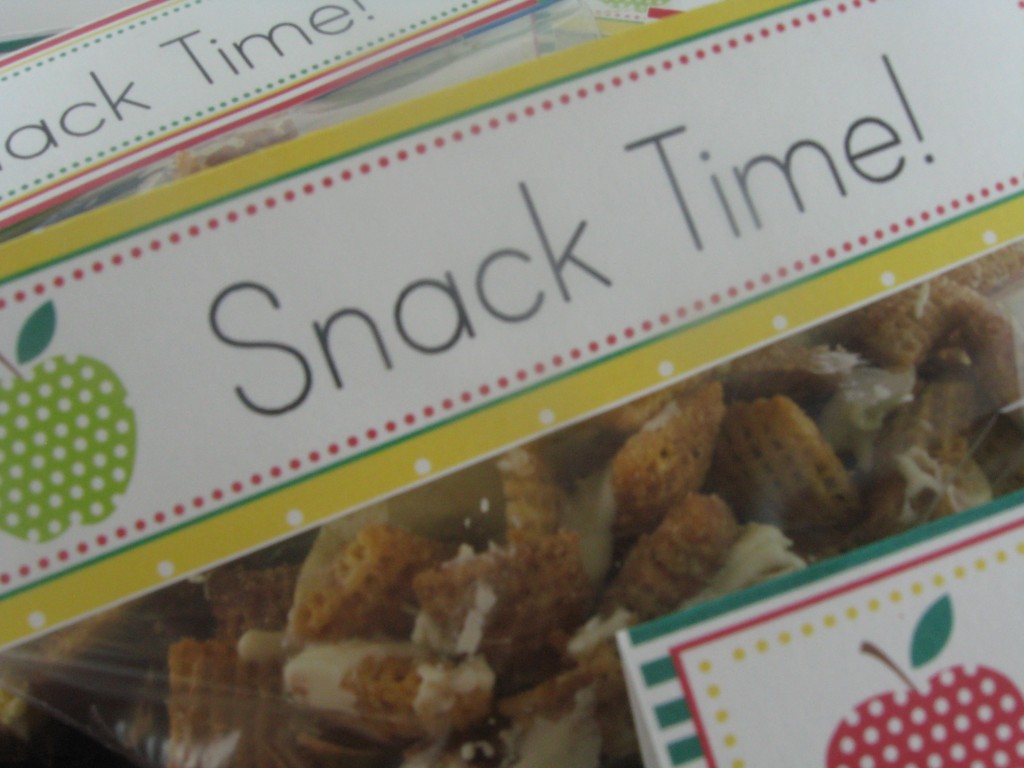 As promised, I'm announcing the winner of the Wilton donut pan today. I used random.org to generate the number…commenter #1 was the lucky winner! Amy, e-mail me your shipping address at kitchenmeetsgirl(at)gmail(dot)com and I'll get it to ya!
Last week, Doodlebug's preschool had an ice-cream social and "come and meet your teacher night." The Tall Boy and I were nearly thrown out of the way and forgotten as we entered the classroom–Doodlebug ran in in a fit of giggling wonder, hugging friends he'd made in Mom's Day Out and explaning to his new teacher how much loves basketball.
As I stood back and watched him play, interacting with old friends and new, I wondered if I was old news (not be confused with old, which he informed another parent I was), washed-up, unneccesary. At that point, I realized that the Tall Boy and I were there merely for transportation, and that the Doodlebug wouldn't have noticed cared if we were in the room or not.
I'm not ready for this, okay? I'm supposed to be the center of this kid's universe–not thrown over for some random person just because they have new and different toys and bright colored chore charts on the wall.
Nine months of pregnancy and hours of labor should buy me more than 4 years, right?
So I do what any other mama would do in this situation.
I resort to bribery.
I bake, and make little treats for the Doodlebug to take with him to preschool so that he thinks I'm cool and the other parents think I have it together.
I'm not either, by the way.
But these little treats are quick and easy, making it something you can quickly assemble on a work night. And you don't need to have kids to appreciate this yummy goodness. This is the perfect party snack, or just a fun stuffing your face anytime snack.
I found the recipe on the back of the Chex cereal box, and while I'm no stranger to Chex mix, this was a new one for me. I divided up the mix, put it in snack-sized Ziplocs and added a bag topper. You can find cute bag toppers all over the internet: etsy and I Share Printables are two of my favorites, though these I found here.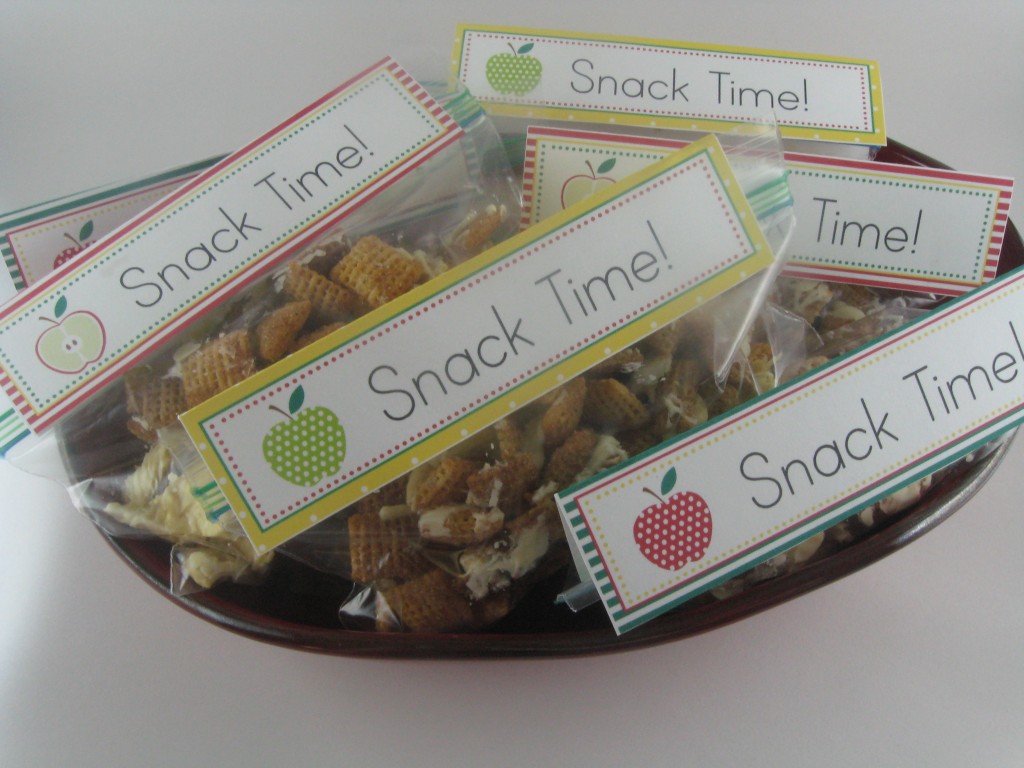 Recipe: Apple Pie Snack Mix
[print_link]
Ingredients
3 cups Cinnamon Chex cereal
3 cups Rice Chex cereal
1 cup walnut pieces
1/2 cup packed brown sugar
1/4 cup butter
1 teaspoon ground cinnamon
1/2 teaspoon ground ginger
1/2 teaspoon ground nutmeg
2 cups dried apples, coarsely chopped
1 cup white vanilla baking chips
1 teaspoon shortening
Instructions
In a large microwavable bowl, mix cereals and walnuts.
In a 2-cup microwavable brown sugar, butter, cinnamon, ginger and nutmeg uncovered for about 1 1/2 minutes, stirring after 1 minute, until smooth and bubbly. Pour over cereal mixture; stir until evenly coated.
Microwave uncovered on high 4 minutes, stirring after each minute. Spread on waxed paper to cool. Sprinkle apples evenly over cereal mixture.
In a small microwaveable bowl, microwave white baking chips and shortening uncovered on high about 1 minute. Drizzle over cereal mixture; let stand until set. Break into bite-size pieces.
10 EASY SLOW COOKER MEALS RECIPE BOOK
Interestingly enough, I didn't grow up with an interest in cooking.  In fact, I informed my mother on multiple occasions that I was not getting an advanced education so I could spend my evenings preparing meals.
<p><div class="et_pb_portfolio_grid clearfix et_pb_module et_pb_bg_layout_light et_pb_dpblog_portfolio_1″></p>
<p><div id="post-11435″ class="et_pb_portfolio_item et_pb_grid_item post-11435 type-post status-draft format-standard has-post-thumbnail hentry category-uncategorized"></p>
<p><a href="https://kitchenmeetsgirl.com/?p=11435″><br />
<span class="et_portfolio_image"><br />
<img src="https://kitchenmeetsgirl.com/wp-content/uploads/2017/01/freezer-guidelines.png" alt='The Ins and Outs of Freezer Storage' width='400′ height='284′ /> <span class="et_overlay et_pb_inline_icon" data-icon=""></span> </span><br />
</a></p>
<p><h2><a href="https://kitchenmeetsgirl.com/?p=11435″>The Ins and Outs of Freezer Storage</a></h2></p>
<p><a href="https://kitchenmeetsgirl.com/?p=11435″ class="more-link" >read more</a> </div> <!– .et_pb_portfolio_item –></p>
<p><div id="post-11416″ class="et_pb_portfolio_item et_pb_grid_item post-11416 type-post status-draft format-standard has-post-thumbnail hentry category-main-dishes category-healthier-options category-soups-and-salads"></p>
<p><a href="https://kitchenmeetsgirl.com/?p=11416″><br />
<span class="et_portfolio_image"><br />
<img src="https://kitchenmeetsgirl.com/wp-content/uploads/2017/01/Chicken-Queso-Soup-title.png" alt='Slow Cooker Chicken Queso Chili' width='400′ height='284′ /> <span class="et_overlay et_pb_inline_icon" data-icon=""></span> </span><br />
</a></p>
<p><h2><a href="https://kitchenmeetsgirl.com/?p=11416″>Slow Cooker Chicken Queso Chili</a></h2></p>
<p><a href="https://kitchenmeetsgirl.com/?p=11416″ class="more-link" >read more</a> </div> <!– .et_pb_portfolio_item –></p>
<p><div id="post-11399″ class="et_pb_portfolio_item et_pb_grid_item post-11399 type-post status-draft format-standard has-post-thumbnail hentry category-uncategorized tag-free-printable tag-freezer-inventory-list tag-kitchen tag-organizing"></p>
<p><a href="https://kitchenmeetsgirl.com/?p=11399″><br />
<span class="et_portfolio_image"><br />
<img src="https://kitchenmeetsgirl.com/wp-content/uploads/2017/01/freezer-inventory.png" alt='Why You Should Keep a Freezer Inventory List' width='400′ height='284′ /> <span class="et_overlay et_pb_inline_icon" data-icon=""></span> </span><br />
</a></p>
<p><h2><a href="https://kitchenmeetsgirl.com/?p=11399″>Why You Should Keep a Freezer Inventory List</a></h2></p>
<p><a href="https://kitchenmeetsgirl.com/?p=11399″ class="more-link" >read more</a> </div> <!– .et_pb_portfolio_item –><br />
</div> <!– .et_pb_portfolio –><div class="pagination clearfix"><br />
<div class="alignleft"><a href="https://kitchenmeetsgirl.com/wp-admin/admin-ajax.php?paged=2″ >« Older Entries</a></div><br />
<div class="alignright"></div><br />
</div></p>
[/et_pb_dpblog_portfolio]