Beer Marinated Pork Chops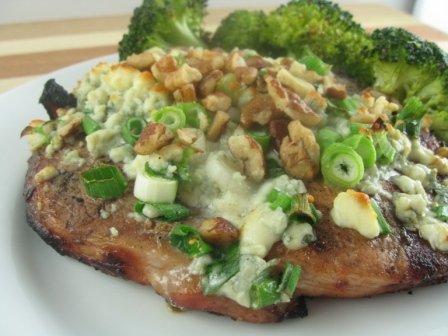 If you spend even five minutes in my home, it's blantantly obvious that I am the only female who lives here.
This is despite the fact that I have floral throw pillows on my living room furniture, scented candles everywhere, a china cabinet full of my grandmother's pink flowered dishes, and decorations throughout the house to match each season.
Because mixed in with all of that, there are footballs, baseballs, basketballs, golf clubs, frisbees, hockey sticks and train pieces covering the floor. And that's just in the family room. Sports Center plays non-stop on the television, despite my futile attempts to tune into the Food Network.
I do actually use my china from time to time, and I attempt at every meal to serve our food on actual platters instead of right off of the stove top. But let's get real–no one in this house cares but me. So every now and then, I try to serve the Tall Boy some actual guy food, instead of quinoa and grilled chicken, which is more the norm around this place. Just trying to keep everything in balance, you know?
Anyway, this was a hit with the Tall Boy, though I suppose anything with "beer" in the title would go over pretty well around here.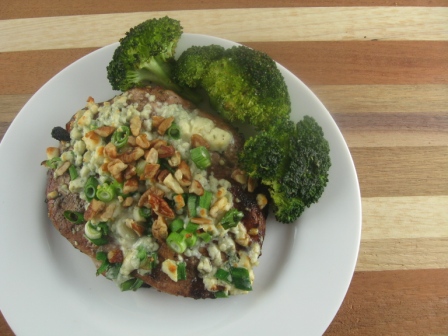 Beer Marinated Pork Chops

Ingredients

4 boneless pork chops
1 bottle of your favorite beer
2 cloves garlic, minced
1 teaspoon kosher salt
1/2 teaspoon black pepper
3 ounces blue cheese or feta cheese
2 green onions, chopped
1/2 cup chopped pecans

Directions

In a ziploc bag, combine your chops, beer, garlic, salt and pepper. Seal and allow to marinate overnight.

In a grill pan, over medium-high heat (we cooked ours on the charcoal grill), cook your chops until no longer pink and juices run clear.

Just before removing from heat, top your chops with cheese and onion until melted. Sprinkle on pecans just before serving.
[print_link]
Previous Post: Pumpkin Pie Hot Chocolate
10 EASY SLOW COOKER MEALS RECIPE BOOK
Interestingly enough, I didn't grow up with an interest in cooking.  In fact, I informed my mother on multiple occasions that I was not getting an advanced education so I could spend my evenings preparing meals.
[et_pb_dpblog_portfolio admin_label="Fit Meets Girl Posts" fullwidth="off" posts_number="1″ custom_post_types="post" include_categories="127″ show_title="off" lightbox="off" popup="off" custom_url="off" custom_fields="off" show_categories="off" show_date="off" show_excerpt="off" show_more="off" show_pagination="off" background_layout="light" zoom_icon_color="#85e0d4″ hover_icon="%%190%%" title_font="Raleway Light|||on|" title_font_size="18″ use_border_color="off" border_color="#ffffff" border_style="solid" disabled="off" saved_tabs="all" global_module="12345″]
<p><div class="et_pb_portfolio_grid clearfix et_pb_module et_pb_bg_layout_light et_pb_dpblog_portfolio_1″></p>
<p><div id="post-11435″ class="et_pb_portfolio_item et_pb_grid_item post-11435 type-post status-draft format-standard has-post-thumbnail hentry category-uncategorized"></p>
<p><a href="https://kitchenmeetsgirl.com/?p=11435″><br />
<span class="et_portfolio_image"><br />
<img src="https://kitchenmeetsgirl.com/wp-content/uploads/2017/01/freezer-guidelines.png" alt='The Ins and Outs of Freezer Storage' width='400′ height='284′ /> <span class="et_overlay et_pb_inline_icon" data-icon=""></span> </span><br />
</a></p>
<p><h2><a href="https://kitchenmeetsgirl.com/?p=11435″>The Ins and Outs of Freezer Storage</a></h2></p>
<p><a href="https://kitchenmeetsgirl.com/?p=11435″ class="more-link" >read more</a> </div> <!– .et_pb_portfolio_item –></p>
<p><div id="post-11416″ class="et_pb_portfolio_item et_pb_grid_item post-11416 type-post status-draft format-standard has-post-thumbnail hentry category-main-dishes category-healthier-options category-soups-and-salads"></p>
<p><a href="https://kitchenmeetsgirl.com/?p=11416″><br />
<span class="et_portfolio_image"><br />
<img src="https://kitchenmeetsgirl.com/wp-content/uploads/2017/01/Chicken-Queso-Soup-title.png" alt='Slow Cooker Chicken Queso Chili' width='400′ height='284′ /> <span class="et_overlay et_pb_inline_icon" data-icon=""></span> </span><br />
</a></p>
<p><h2><a href="https://kitchenmeetsgirl.com/?p=11416″>Slow Cooker Chicken Queso Chili</a></h2></p>
<p><a href="https://kitchenmeetsgirl.com/?p=11416″ class="more-link" >read more</a> </div> <!– .et_pb_portfolio_item –></p>
<p><div id="post-11399″ class="et_pb_portfolio_item et_pb_grid_item post-11399 type-post status-draft format-standard has-post-thumbnail hentry category-uncategorized tag-free-printable tag-freezer-inventory-list tag-kitchen tag-organizing"></p>
<p><a href="https://kitchenmeetsgirl.com/?p=11399″><br />
<span class="et_portfolio_image"><br />
<img src="https://kitchenmeetsgirl.com/wp-content/uploads/2017/01/freezer-inventory.png" alt='Why You Should Keep a Freezer Inventory List' width='400′ height='284′ /> <span class="et_overlay et_pb_inline_icon" data-icon=""></span> </span><br />
</a></p>
<p><h2><a href="https://kitchenmeetsgirl.com/?p=11399″>Why You Should Keep a Freezer Inventory List</a></h2></p>
<p><a href="https://kitchenmeetsgirl.com/?p=11399″ class="more-link" >read more</a> </div> <!– .et_pb_portfolio_item –><br />
</div> <!– .et_pb_portfolio –><div class="pagination clearfix"><br />
<div class="alignleft"><a href="https://kitchenmeetsgirl.com/wp-admin/admin-ajax.php?paged=2″ >« Older Entries</a></div><br />
<div class="alignright"></div><br />
</div></p>
[/et_pb_dpblog_portfolio]
<p><div class="et_pb_portfolio_grid clearfix et_pb_module et_pb_bg_layout_light et_pb_dpblog_portfolio_1″></p>
<p><div id="post-11435″ class="et_pb_portfolio_item et_pb_grid_item post-11435 type-post status-draft format-standard has-post-thumbnail hentry category-uncategorized"></p>
<p><a href="https://kitchenmeetsgirl.com/?p=11435″><br />
<span class="et_portfolio_image"><br />
<img src="https://kitchenmeetsgirl.com/wp-content/uploads/2017/01/freezer-guidelines.png" alt='The Ins and Outs of Freezer Storage' width='400′ height='284′ /> <span class="et_overlay et_pb_inline_icon" data-icon=""></span> </span><br />
</a></p>
<p><h2><a href="https://kitchenmeetsgirl.com/?p=11435″>The Ins and Outs of Freezer Storage</a></h2></p>
<p><a href="https://kitchenmeetsgirl.com/?p=11435″ class="more-link" >read more</a> </div> <!– .et_pb_portfolio_item –></p>
<p><div id="post-11416″ class="et_pb_portfolio_item et_pb_grid_item post-11416 type-post status-draft format-standard has-post-thumbnail hentry category-main-dishes category-healthier-options category-soups-and-salads"></p>
<p><a href="https://kitchenmeetsgirl.com/?p=11416″><br />
<span class="et_portfolio_image"><br />
<img src="https://kitchenmeetsgirl.com/wp-content/uploads/2017/01/Chicken-Queso-Soup-title.png" alt='Slow Cooker Chicken Queso Chili' width='400′ height='284′ /> <span class="et_overlay et_pb_inline_icon" data-icon=""></span> </span><br />
</a></p>
<p><h2><a href="https://kitchenmeetsgirl.com/?p=11416″>Slow Cooker Chicken Queso Chili</a></h2></p>
<p><a href="https://kitchenmeetsgirl.com/?p=11416″ class="more-link" >read more</a> </div> <!– .et_pb_portfolio_item –></p>
<p><div id="post-11399″ class="et_pb_portfolio_item et_pb_grid_item post-11399 type-post status-draft format-standard has-post-thumbnail hentry category-uncategorized tag-free-printable tag-freezer-inventory-list tag-kitchen tag-organizing"></p>
<p><a href="https://kitchenmeetsgirl.com/?p=11399″><br />
<span class="et_portfolio_image"><br />
<img src="https://kitchenmeetsgirl.com/wp-content/uploads/2017/01/freezer-inventory.png" alt='Why You Should Keep a Freezer Inventory List' width='400′ height='284′ /> <span class="et_overlay et_pb_inline_icon" data-icon=""></span> </span><br />
</a></p>
<p><h2><a href="https://kitchenmeetsgirl.com/?p=11399″>Why You Should Keep a Freezer Inventory List</a></h2></p>
<p><a href="https://kitchenmeetsgirl.com/?p=11399″ class="more-link" >read more</a> </div> <!– .et_pb_portfolio_item –><br />
</div> <!– .et_pb_portfolio –><div class="pagination clearfix"><br />
<div class="alignleft"><a href="https://kitchenmeetsgirl.com/wp-admin/admin-ajax.php?paged=2″ >« Older Entries</a></div><br />
<div class="alignright"></div><br />
</div></p>
[/et_pb_dpblog_portfolio]
[et_pb_dpblog_portfolio admin_label="Featured Posts" fullwidth="off" posts_number="1″ custom_post_types="post" include_categories="123″ show_title="off" lightbox="off" popup="off" custom_url="off" custom_fields="off" show_categories="off" show_date="off" show_excerpt="off" show_more="off" show_pagination="off" background_layout="light" zoom_icon_color="#85e0d4″ hover_icon="%%190%%" title_font="Raleway Light|||on|" title_font_size="18″ use_border_color="off" border_color="#ffffff" border_style="solid" disabled="off" saved_tabs="all" global_module="12349″]
<p><div class="et_pb_portfolio_grid clearfix et_pb_module et_pb_bg_layout_light et_pb_dpblog_portfolio_1″></p>
<p><div id="post-11435″ class="et_pb_portfolio_item et_pb_grid_item post-11435 type-post status-draft format-standard has-post-thumbnail hentry category-uncategorized"></p>
<p><a href="https://kitchenmeetsgirl.com/?p=11435″><br />
<span class="et_portfolio_image"><br />
<img src="https://kitchenmeetsgirl.com/wp-content/uploads/2017/01/freezer-guidelines.png" alt='The Ins and Outs of Freezer Storage' width='400′ height='284′ /> <span class="et_overlay et_pb_inline_icon" data-icon=""></span> </span><br />
</a></p>
<p><h2><a href="https://kitchenmeetsgirl.com/?p=11435″>The Ins and Outs of Freezer Storage</a></h2></p>
<p><a href="https://kitchenmeetsgirl.com/?p=11435″ class="more-link" >read more</a> </div> <!– .et_pb_portfolio_item –></p>
<p><div id="post-11416″ class="et_pb_portfolio_item et_pb_grid_item post-11416 type-post status-draft format-standard has-post-thumbnail hentry category-main-dishes category-healthier-options category-soups-and-salads"></p>
<p><a href="https://kitchenmeetsgirl.com/?p=11416″><br />
<span class="et_portfolio_image"><br />
<img src="https://kitchenmeetsgirl.com/wp-content/uploads/2017/01/Chicken-Queso-Soup-title.png" alt='Slow Cooker Chicken Queso Chili' width='400′ height='284′ /> <span class="et_overlay et_pb_inline_icon" data-icon=""></span> </span><br />
</a></p>
<p><h2><a href="https://kitchenmeetsgirl.com/?p=11416″>Slow Cooker Chicken Queso Chili</a></h2></p>
<p><a href="https://kitchenmeetsgirl.com/?p=11416″ class="more-link" >read more</a> </div> <!– .et_pb_portfolio_item –></p>
<p><div id="post-11399″ class="et_pb_portfolio_item et_pb_grid_item post-11399 type-post status-draft format-standard has-post-thumbnail hentry category-uncategorized tag-free-printable tag-freezer-inventory-list tag-kitchen tag-organizing"></p>
<p><a href="https://kitchenmeetsgirl.com/?p=11399″><br />
<span class="et_portfolio_image"><br />
<img src="https://kitchenmeetsgirl.com/wp-content/uploads/2017/01/freezer-inventory.png" alt='Why You Should Keep a Freezer Inventory List' width='400′ height='284′ /> <span class="et_overlay et_pb_inline_icon" data-icon=""></span> </span><br />
</a></p>
<p><h2><a href="https://kitchenmeetsgirl.com/?p=11399″>Why You Should Keep a Freezer Inventory List</a></h2></p>
<p><a href="https://kitchenmeetsgirl.com/?p=11399″ class="more-link" >read more</a> </div> <!– .et_pb_portfolio_item –><br />
</div> <!– .et_pb_portfolio –><div class="pagination clearfix"><br />
<div class="alignleft"><a href="https://kitchenmeetsgirl.com/wp-admin/admin-ajax.php?paged=2″ >« Older Entries</a></div><br />
<div class="alignright"></div><br />
</div></p>
[/et_pb_dpblog_portfolio]
[widget id="categories-7"]
[widget id="collapsarch-4"]