Blueberry-Lemon Cake Donuts – and a giveaway!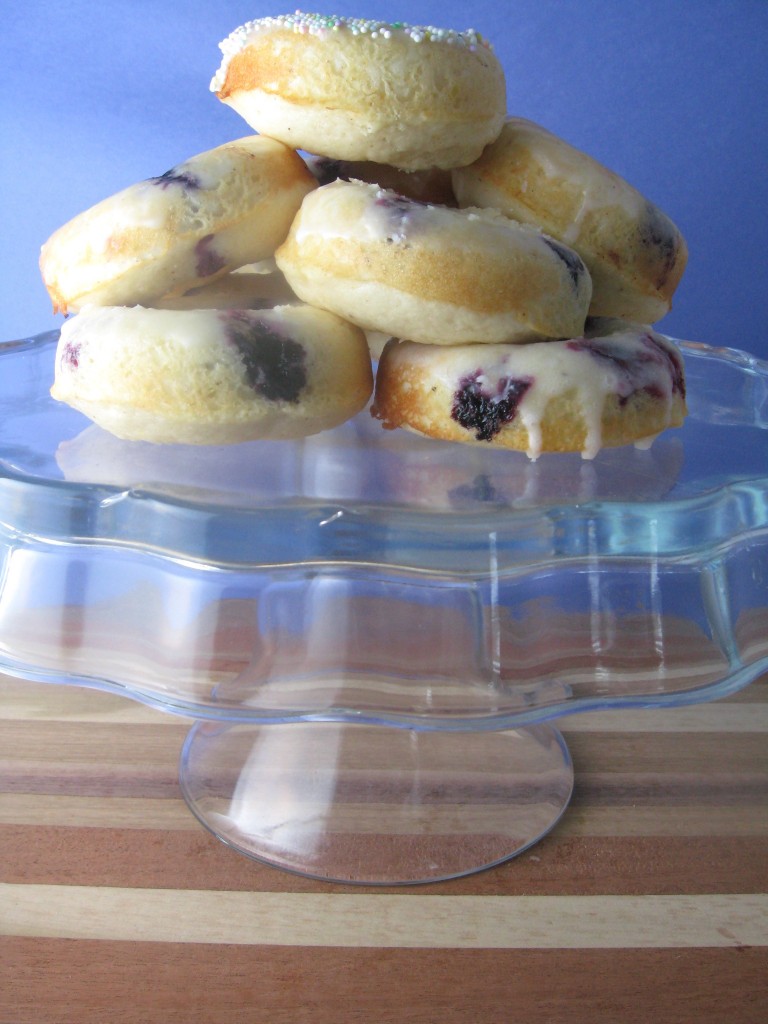 I may have mentioned my affinity before for kitchen gadgets, especially specialized ones I really don't have space for. But I keep buying them anyway. It's like I can't stop myself. I'm addicted. But there are worse things–right?
And the good news here is that I bought this Wilton cake donut pan not just for me, but for one of you, too.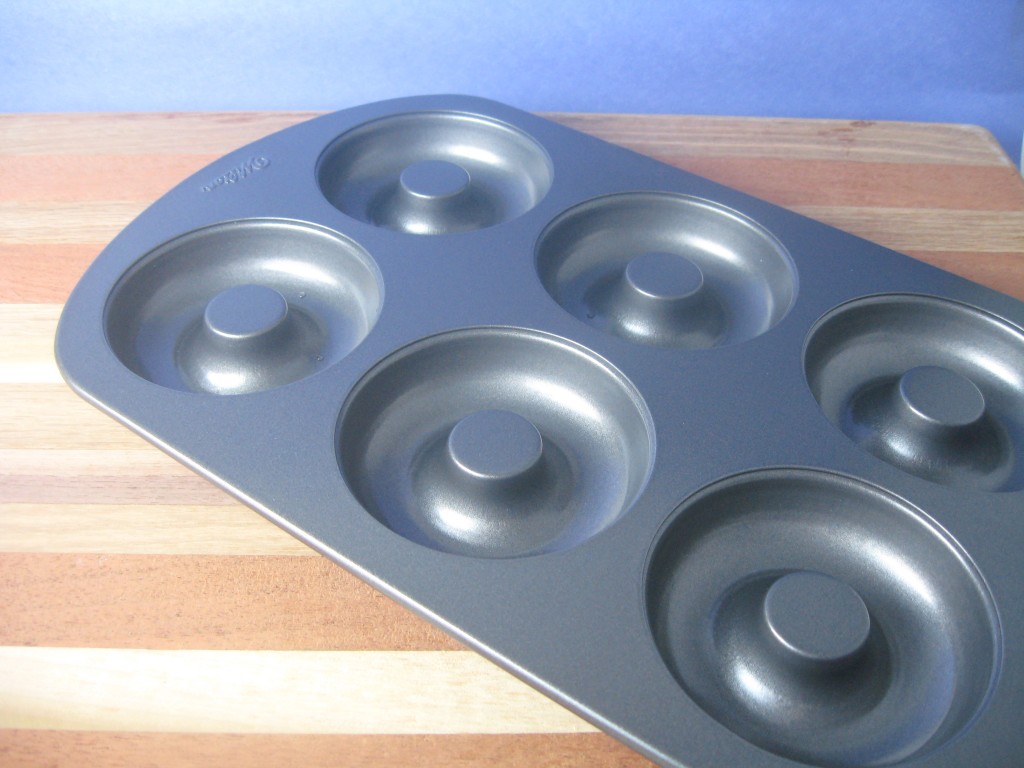 I don't want to be alone in my obsession.
Here's how you can have up to three chances to win:
Post a comment here, naming your favorite kind of donut.
"Like" me on Facebook, then post a comment here letting me know you did.
Share a link to my Facebook page or to this giveaway on your Facebook page, then come back here to comment that you did.
Giveaway will remain open through Friday, September 2, 2011. Winner will be chosen by random.org and announced Monday, September 5.
These are super easy to make, and the possibilities are endless. I took Wilton's basic recipe and jazzed it up a bit with blueberries and lemon.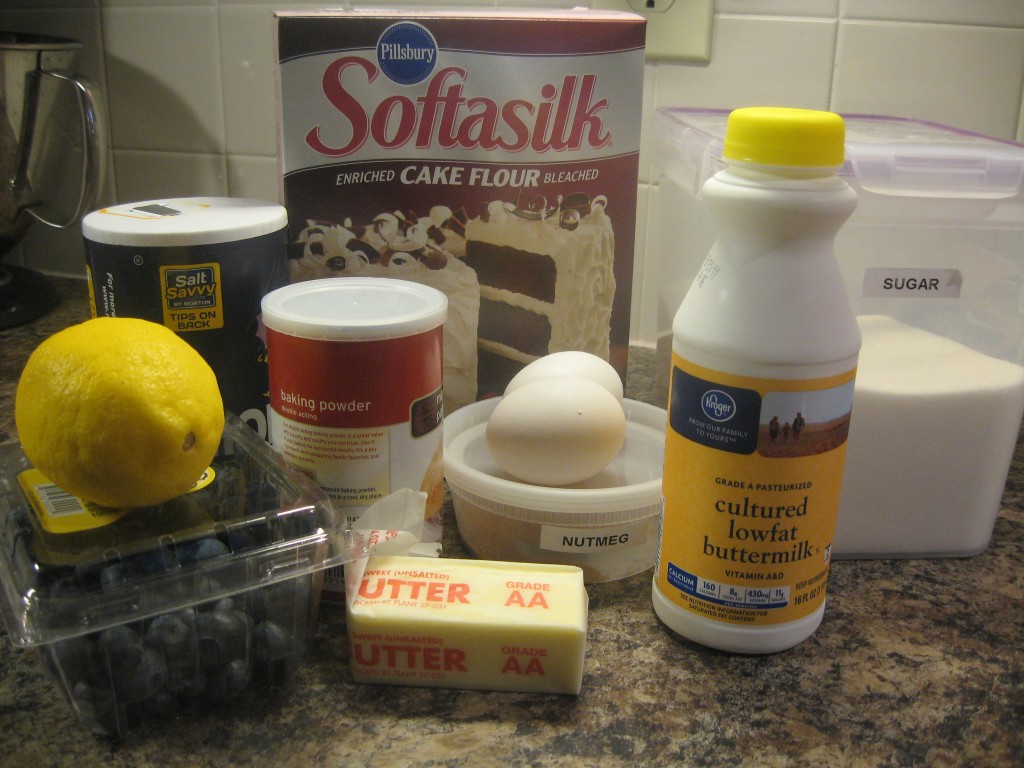 First, sift together your dry ingredients, including the zest of one lemon. I didn't take a picture of that, because frankly, looking at a picture of flour is BORING.
Wet ingredients: This isn't that much more exciting.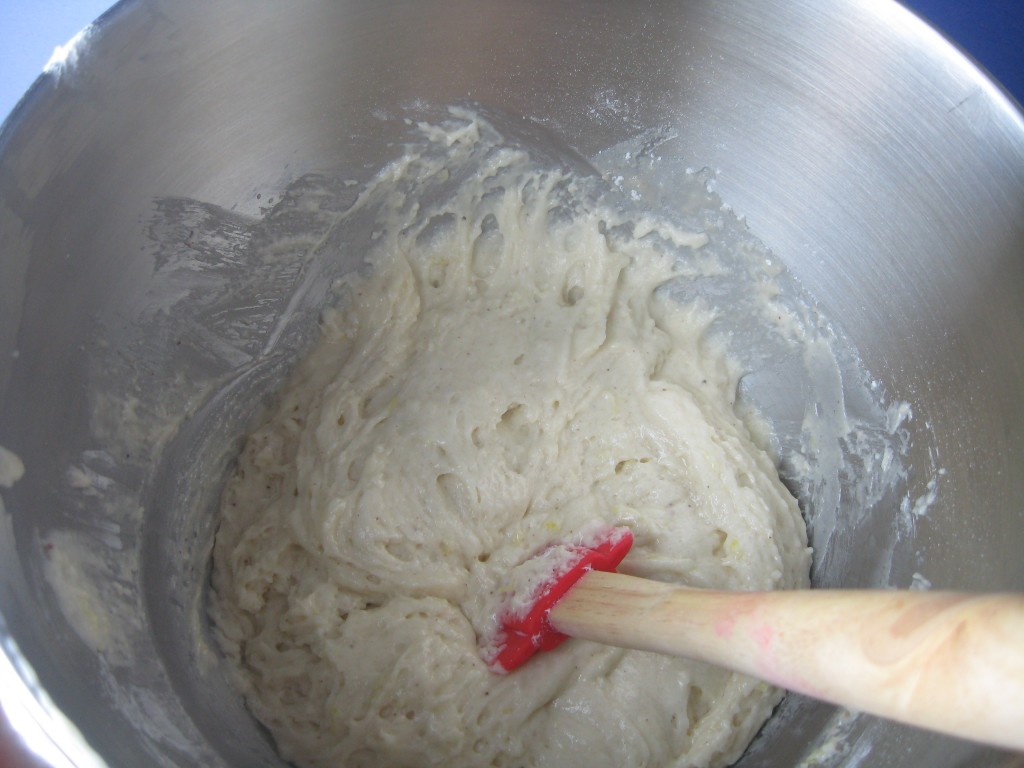 But…wait for it…gently fold in your blueberries. YUM!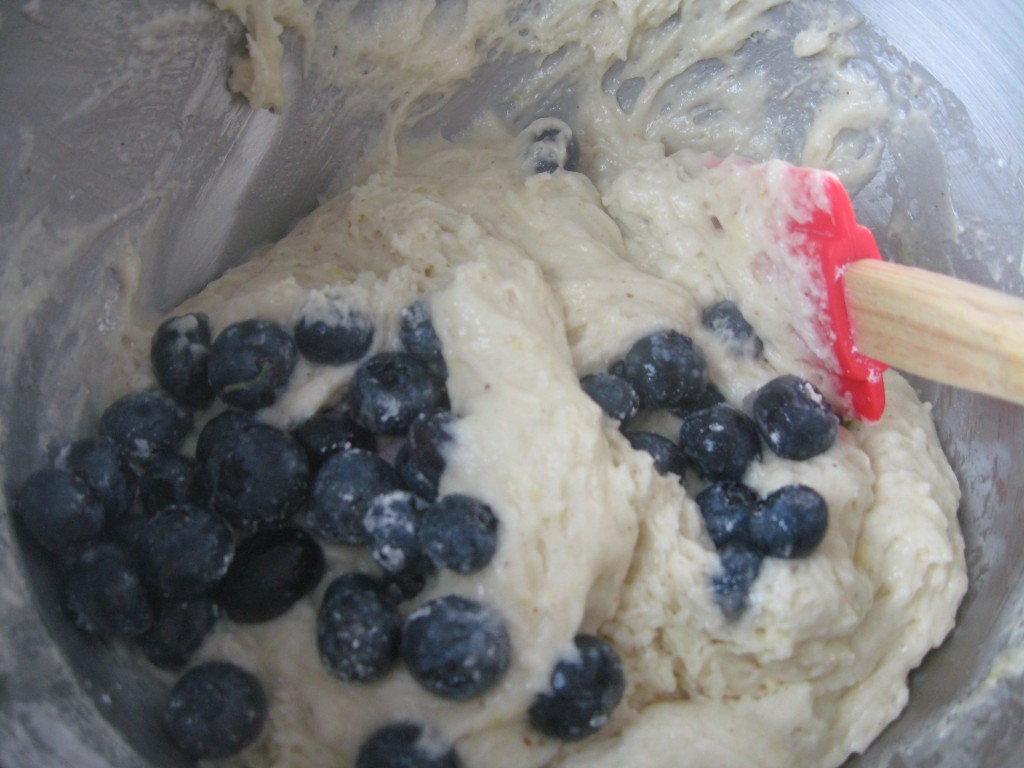 Spoon carefully into your molds: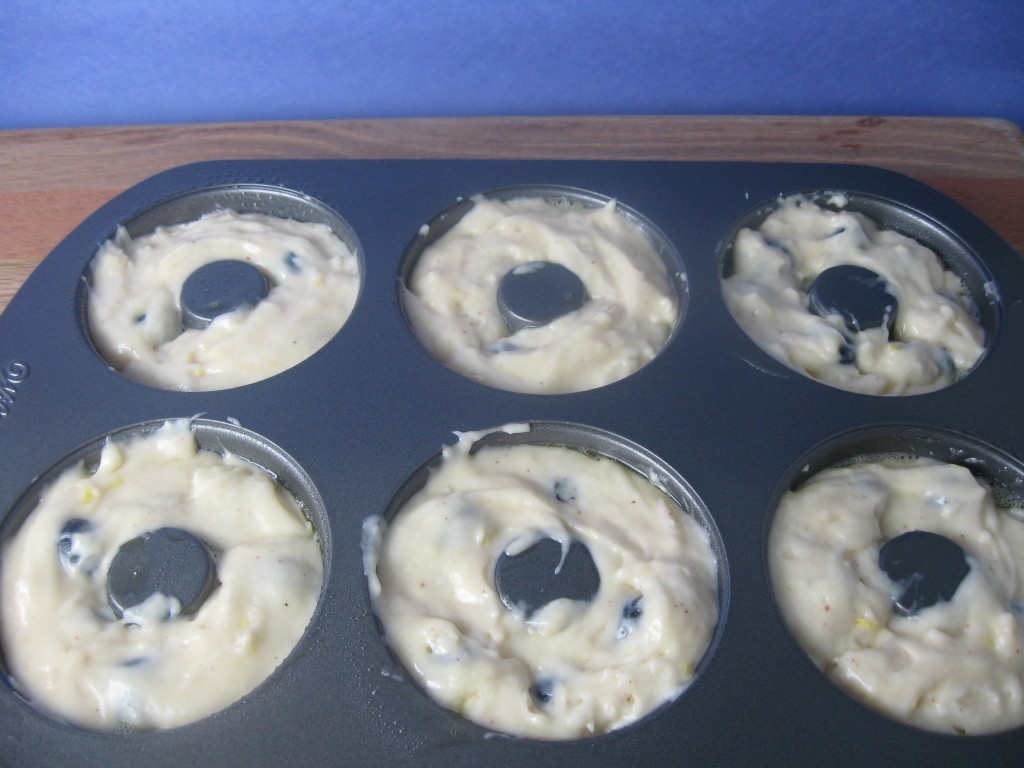 Bake at 350 for 7 to 9 minutes. Let cool. It's hard to wait.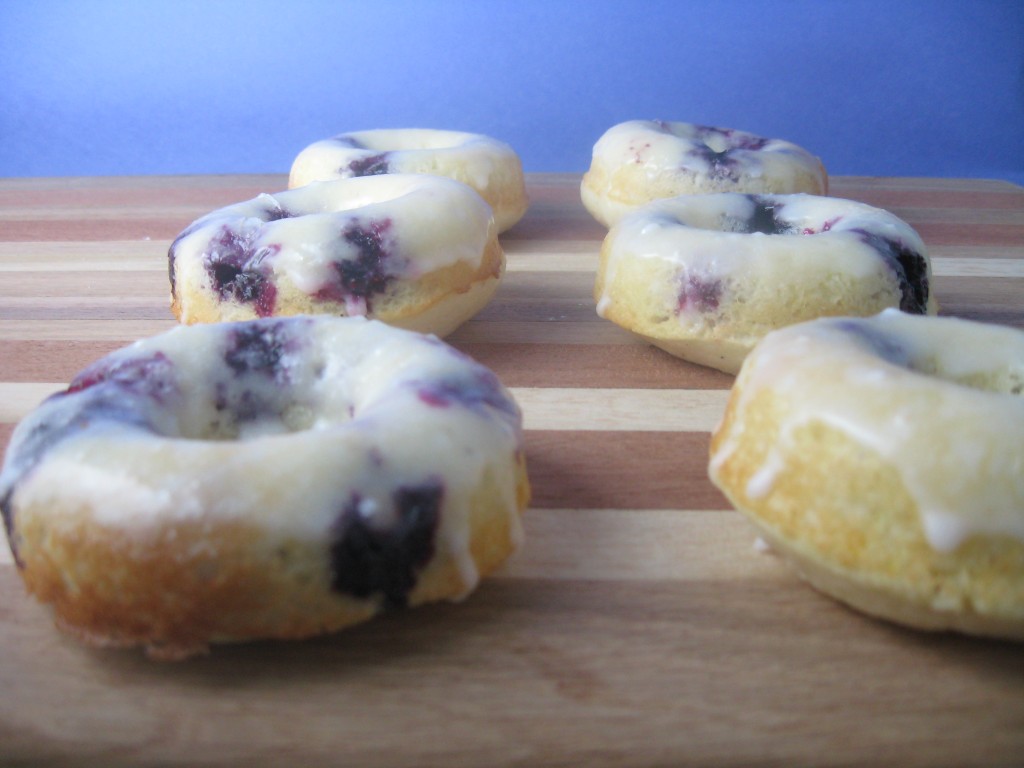 Drizzle with a glaze of powdered sugar, milk, and lemon juice.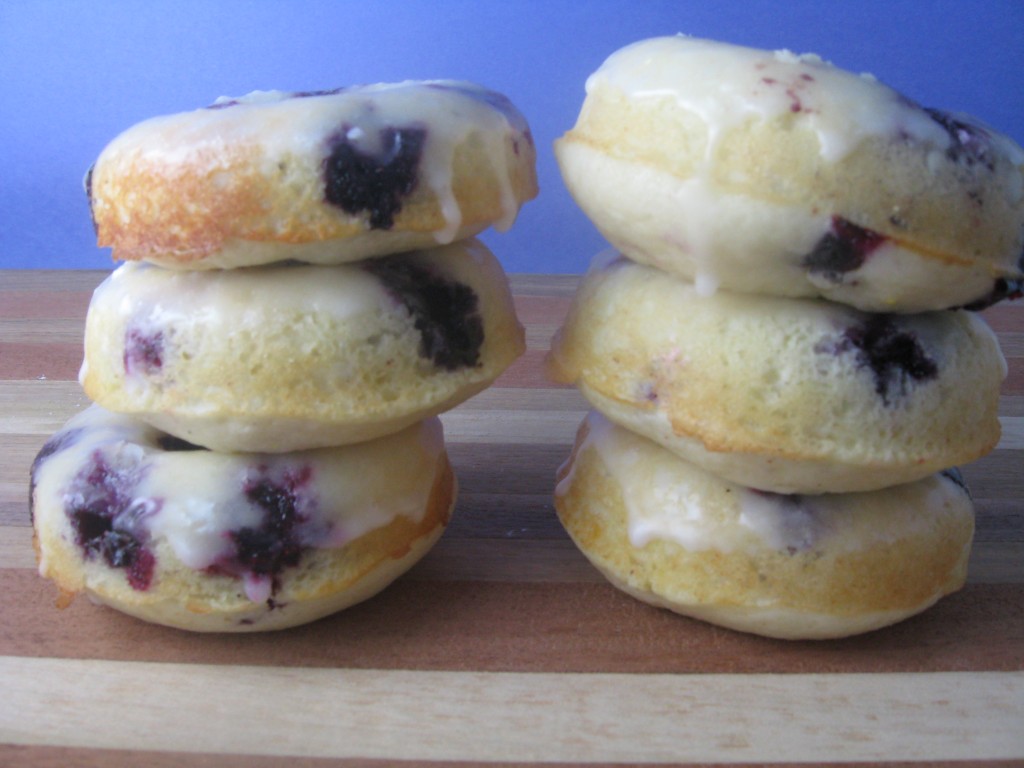 By the way, Wilton is in no way involved with this giveaway. Wilton has no idea who Kitchen Meets Girl is, other than someone who took a few of their cake classes a few years ago and could barely get the shell technique down.
I'm soooooooooo much better at eating cake than decorating it.
Recipe: Blueberry-Lemon Cake Donuts
Ingredients
2 cups cake flour, sifted
3/4 cup sugar
2 teaspoons baking powder
1/4 teaspoon ground nutmeg
zest of one lemon
1 teaspoon salt
3/4 cup buttermilk
2 eggs, lightly beaten
2 tablespoons butter, melter
1 cup fresh blueberries
Instructions
In a large mixing bowl, sift together cake flour, sugar, baking powder, nutmeg and salt. Add lemon zest.
Add buttermilk, eggs and butter. Beat until just combined. Fill each doughnut cup approximately 2/3 cup full.
Bake 7 to 9 minutes at 425.
Finish donuts with glaze of powdered sugar, milk and lemon juice.
Microformatting by hRecipe.
10 EASY SLOW COOKER MEALS RECIPE BOOK
Interestingly enough, I didn't grow up with an interest in cooking.  In fact, I informed my mother on multiple occasions that I was not getting an advanced education so I could spend my evenings preparing meals.
<p><div class="et_pb_portfolio_grid clearfix et_pb_module et_pb_bg_layout_light et_pb_dpblog_portfolio_1″></p>
<p><div id="post-11435″ class="et_pb_portfolio_item et_pb_grid_item post-11435 type-post status-draft format-standard has-post-thumbnail hentry category-uncategorized"></p>
<p><a href="https://kitchenmeetsgirl.com/?p=11435″><br />
<span class="et_portfolio_image"><br />
<img src="https://kitchenmeetsgirl.com/wp-content/uploads/2017/01/freezer-guidelines.png" alt='The Ins and Outs of Freezer Storage' width='400′ height='284′ /> <span class="et_overlay et_pb_inline_icon" data-icon=""></span> </span><br />
</a></p>
<p><h2><a href="https://kitchenmeetsgirl.com/?p=11435″>The Ins and Outs of Freezer Storage</a></h2></p>
<p><a href="https://kitchenmeetsgirl.com/?p=11435″ class="more-link" >read more</a> </div> <!– .et_pb_portfolio_item –></p>
<p><div id="post-11416″ class="et_pb_portfolio_item et_pb_grid_item post-11416 type-post status-draft format-standard has-post-thumbnail hentry category-main-dishes category-healthier-options category-soups-and-salads"></p>
<p><a href="https://kitchenmeetsgirl.com/?p=11416″><br />
<span class="et_portfolio_image"><br />
<img src="https://kitchenmeetsgirl.com/wp-content/uploads/2017/01/Chicken-Queso-Soup-title.png" alt='Slow Cooker Chicken Queso Chili' width='400′ height='284′ /> <span class="et_overlay et_pb_inline_icon" data-icon=""></span> </span><br />
</a></p>
<p><h2><a href="https://kitchenmeetsgirl.com/?p=11416″>Slow Cooker Chicken Queso Chili</a></h2></p>
<p><a href="https://kitchenmeetsgirl.com/?p=11416″ class="more-link" >read more</a> </div> <!– .et_pb_portfolio_item –></p>
<p><div id="post-11399″ class="et_pb_portfolio_item et_pb_grid_item post-11399 type-post status-draft format-standard has-post-thumbnail hentry category-uncategorized tag-free-printable tag-freezer-inventory-list tag-kitchen tag-organizing"></p>
<p><a href="https://kitchenmeetsgirl.com/?p=11399″><br />
<span class="et_portfolio_image"><br />
<img src="https://kitchenmeetsgirl.com/wp-content/uploads/2017/01/freezer-inventory.png" alt='Why You Should Keep a Freezer Inventory List' width='400′ height='284′ /> <span class="et_overlay et_pb_inline_icon" data-icon=""></span> </span><br />
</a></p>
<p><h2><a href="https://kitchenmeetsgirl.com/?p=11399″>Why You Should Keep a Freezer Inventory List</a></h2></p>
<p><a href="https://kitchenmeetsgirl.com/?p=11399″ class="more-link" >read more</a> </div> <!– .et_pb_portfolio_item –><br />
</div> <!– .et_pb_portfolio –><div class="pagination clearfix"><br />
<div class="alignleft"><a href="https://kitchenmeetsgirl.com/wp-admin/admin-ajax.php?paged=2″ >« Older Entries</a></div><br />
<div class="alignright"></div><br />
</div></p>
[/et_pb_dpblog_portfolio]