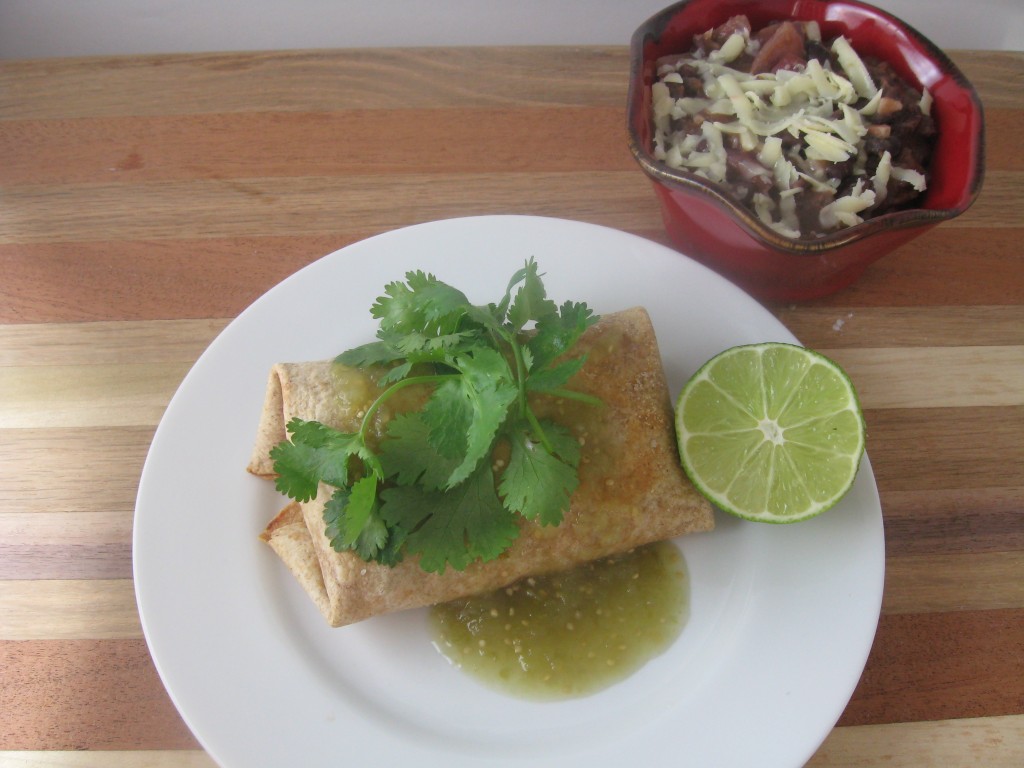 I love Mexican food. Really, really love it. I don't understand people when I hear them say, "Oh, I don't really want Mexican food, I just had it last week." Last week? I'd be in some serious withdrawal if I had to wait that long.
As it stands now, I already keep a running supply of salsa in my refrigerator. One of my guiltiest pleasures is hiding in the panty, shoving my face full of tortilla chips and salsa, scrambling to hide the evidence when I hear my husband's car pull into the garage.
I attribute this to my mother's food cravings when she was pregnant with me. The story is that she and my dad ate once a week at a local Mexican restaurant during those nine months. And let me tell you a little something about this place: back then, I'm not certain just how by the book they were about following restaurant code, but most patrons didn't care because it was so crazy good.
And authentic.
And spicy.
Believe me when I say I can out-eat just about anyone in a spicy foods contest.
I was on a blind date once with a guy who tried to "impress me" by attempting to eat the special back of the kitchen hot sauce I'd requested, and ended up leaving the table in a fit of coughing, red-faced embarassment.
Clearly not the guy for me.
All that aside, this recipe is not spicy, though you certainly could turn it up a notch if you chose to do so. Whatever you do, make it, because it is good.
Start by shredding about 2 cups of cooked chicken, or more, depending on how many you are serving. Deli chicken would be perfect for this, although I happened to have some leftover grilled taco chicken, and that's what I used.
I also had some leftover southwest cream sauce leftover from the shrimp tacos I'd made a few days before, so I mixed it all together…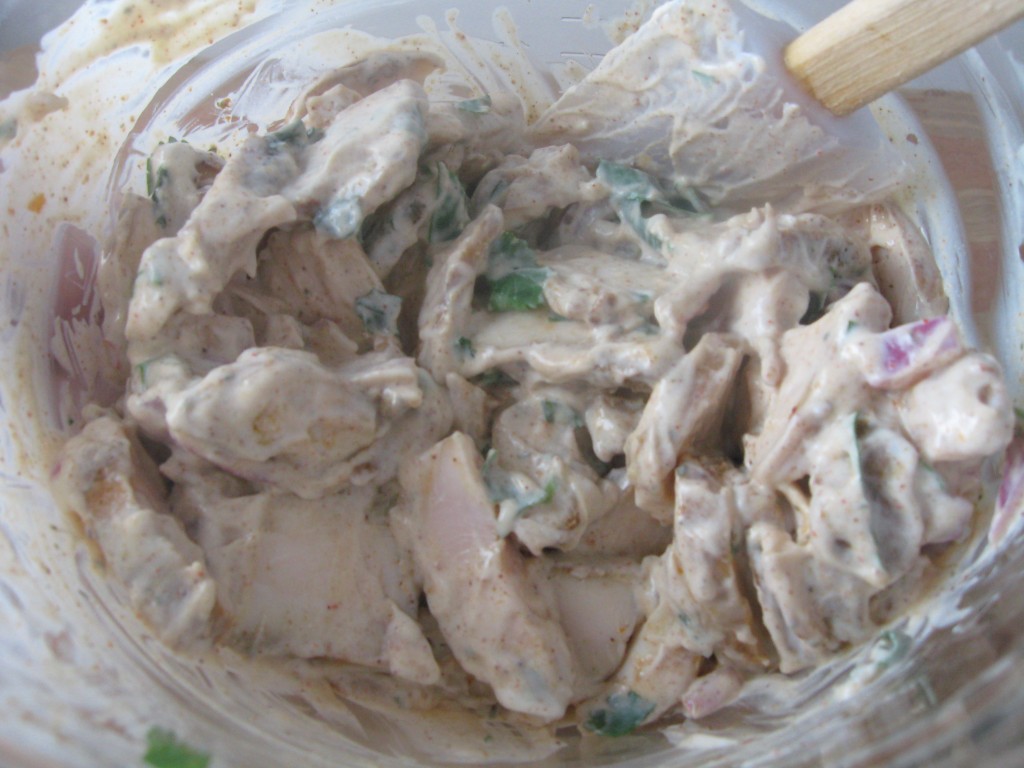 …then rolled the mixture into wheat tortilla shells secured with a toothpick to keep them closed.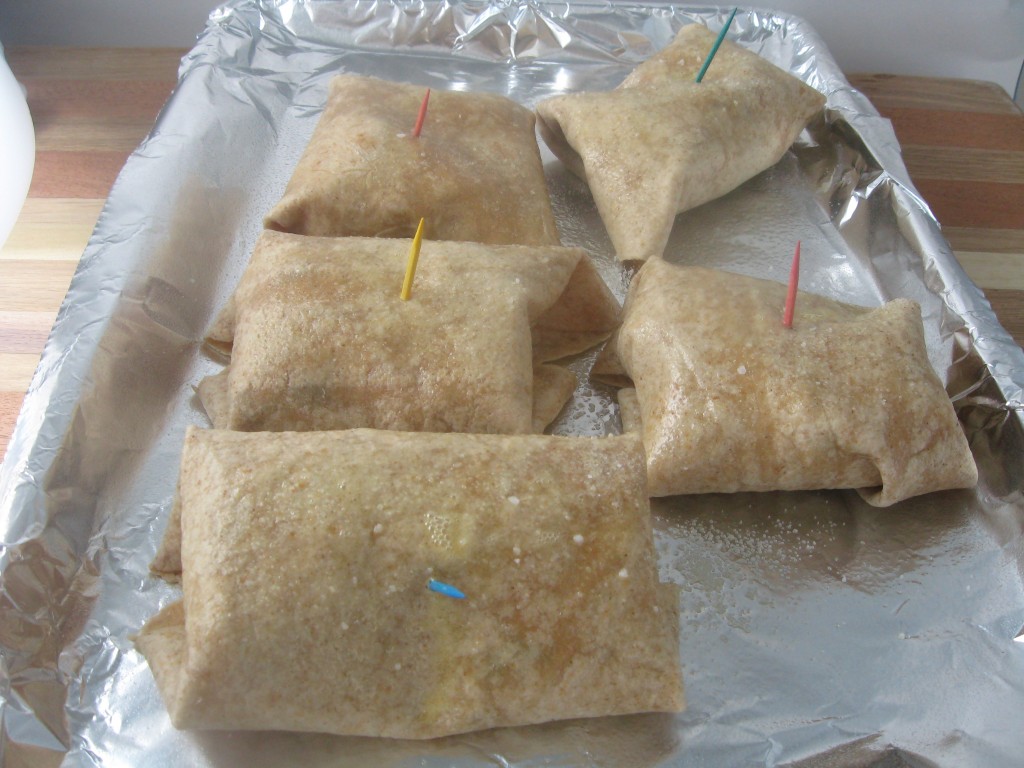 To get the crispy, fried effect without sabotaging your diet, spray the tortillas with canola oil and sprinkle with Kosher salt. Bake at 350 for about 15 minutes, turning once halfway through.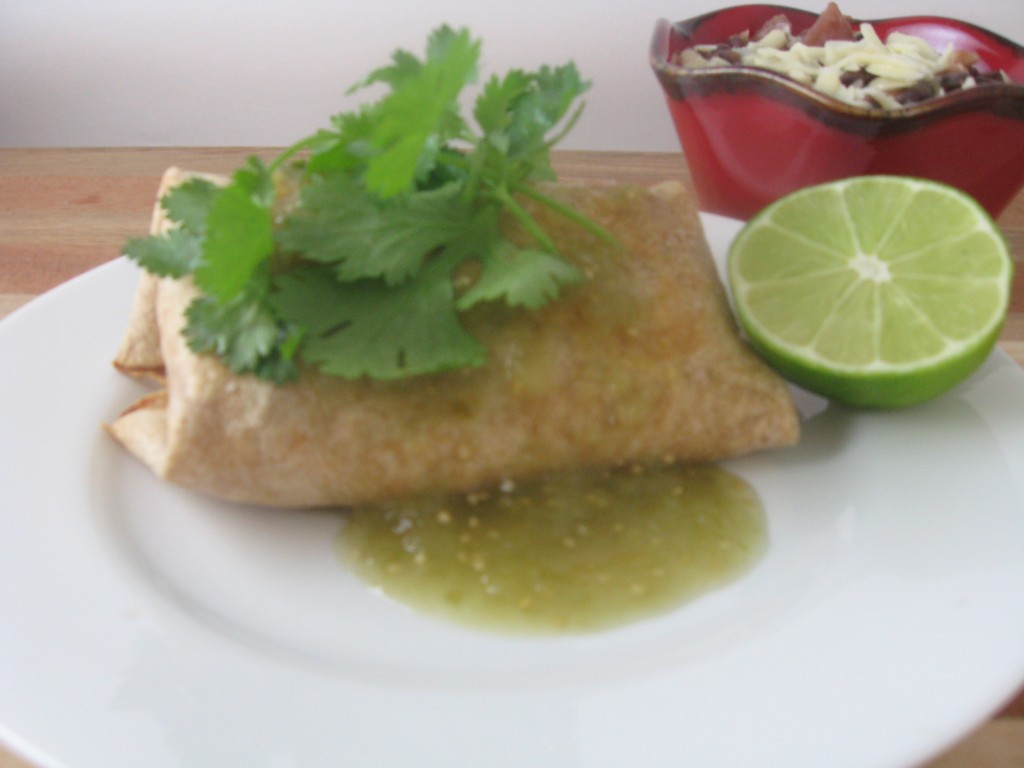 Serve with green salsa, black beans and shredded monterey jack cheese. YUM.
Recipe: Chicken Chimichangas
Ingredients
2 cups shredded, cooked chicken
1 (16-oz.) container sour cream
1 garlic clove, minced
2 tablespoons finely chopped red onion
1 teaspoon chili powder
1/2 teaspoon ground cumin
1/2 teaspoon ground red pepper
1/4 teaspoon salt
2 tablespoons chopped fresh cilantro
2 tablespoons fresh lime juice
Instructions
Whisk together sour cream; garlic, red onion; chili powder; cumin; ground red pepper; and salt.
Whisk in cilantro and lime juice until smooth.
Add chicken to combine.
Fill tortillas with chicken mixture; roll up and secure with a toothpick.
Spray with canola oil and sprinkle with Kosher salt.
Bake at 350 for 15 minutes, turning over halfway through.
10 EASY SLOW COOKER MEALS RECIPE BOOK
Interestingly enough, I didn't grow up with an interest in cooking.  In fact, I informed my mother on multiple occasions that I was not getting an advanced education so I could spend my evenings preparing meals.
<p><div class="et_pb_portfolio_grid clearfix et_pb_module et_pb_bg_layout_light et_pb_dpblog_portfolio_1″></p>
<p><div id="post-11435″ class="et_pb_portfolio_item et_pb_grid_item post-11435 type-post status-draft format-standard has-post-thumbnail hentry category-uncategorized"></p>
<p><a href="https://kitchenmeetsgirl.com/?p=11435″><br />
<span class="et_portfolio_image"><br />
<img src="https://kitchenmeetsgirl.com/wp-content/uploads/2017/01/freezer-guidelines.png" alt='The Ins and Outs of Freezer Storage' width='400′ height='284′ /> <span class="et_overlay et_pb_inline_icon" data-icon=""></span> </span><br />
</a></p>
<p><h2><a href="https://kitchenmeetsgirl.com/?p=11435″>The Ins and Outs of Freezer Storage</a></h2></p>
<p><a href="https://kitchenmeetsgirl.com/?p=11435″ class="more-link" >read more</a> </div> <!– .et_pb_portfolio_item –></p>
<p><div id="post-11416″ class="et_pb_portfolio_item et_pb_grid_item post-11416 type-post status-draft format-standard has-post-thumbnail hentry category-main-dishes category-healthier-options category-soups-and-salads"></p>
<p><a href="https://kitchenmeetsgirl.com/?p=11416″><br />
<span class="et_portfolio_image"><br />
<img src="https://kitchenmeetsgirl.com/wp-content/uploads/2017/01/Chicken-Queso-Soup-title.png" alt='Slow Cooker Chicken Queso Chili' width='400′ height='284′ /> <span class="et_overlay et_pb_inline_icon" data-icon=""></span> </span><br />
</a></p>
<p><h2><a href="https://kitchenmeetsgirl.com/?p=11416″>Slow Cooker Chicken Queso Chili</a></h2></p>
<p><a href="https://kitchenmeetsgirl.com/?p=11416″ class="more-link" >read more</a> </div> <!– .et_pb_portfolio_item –></p>
<p><div id="post-11399″ class="et_pb_portfolio_item et_pb_grid_item post-11399 type-post status-draft format-standard has-post-thumbnail hentry category-uncategorized tag-free-printable tag-freezer-inventory-list tag-kitchen tag-organizing"></p>
<p><a href="https://kitchenmeetsgirl.com/?p=11399″><br />
<span class="et_portfolio_image"><br />
<img src="https://kitchenmeetsgirl.com/wp-content/uploads/2017/01/freezer-inventory.png" alt='Why You Should Keep a Freezer Inventory List' width='400′ height='284′ /> <span class="et_overlay et_pb_inline_icon" data-icon=""></span> </span><br />
</a></p>
<p><h2><a href="https://kitchenmeetsgirl.com/?p=11399″>Why You Should Keep a Freezer Inventory List</a></h2></p>
<p><a href="https://kitchenmeetsgirl.com/?p=11399″ class="more-link" >read more</a> </div> <!– .et_pb_portfolio_item –><br />
</div> <!– .et_pb_portfolio –><div class="pagination clearfix"><br />
<div class="alignleft"><a href="https://kitchenmeetsgirl.com/wp-admin/admin-ajax.php?paged=2″ >« Older Entries</a></div><br />
<div class="alignright"></div><br />
</div></p>
[/et_pb_dpblog_portfolio]