Citrus Shrimp Tacos with Southwest Cream Sauce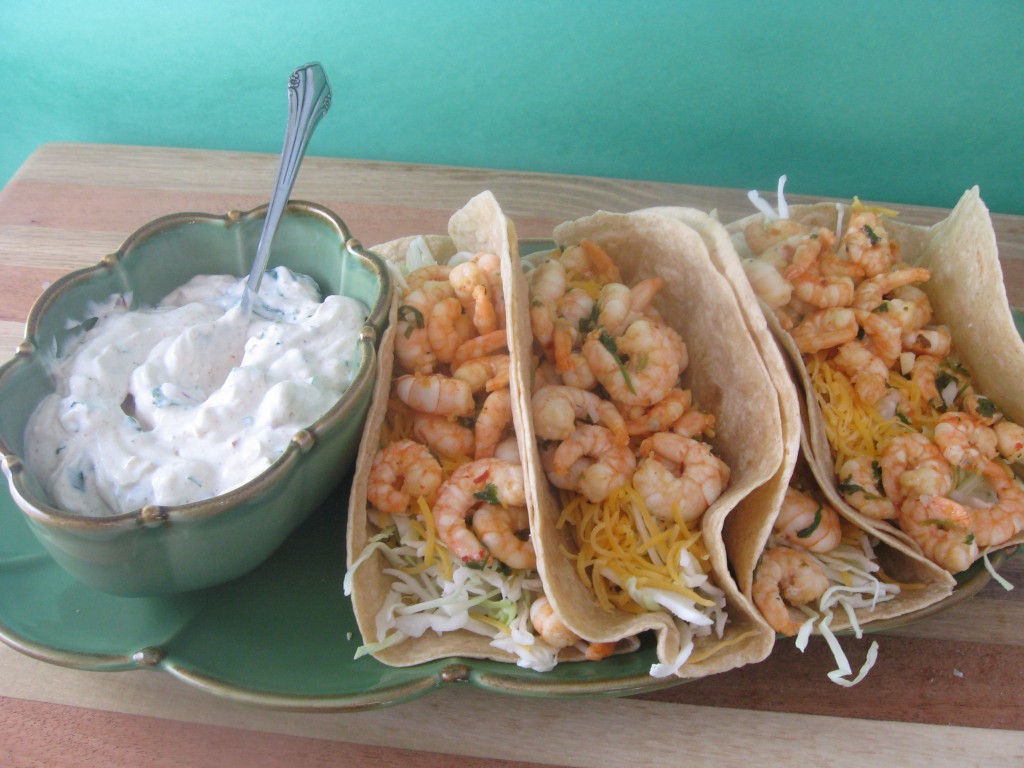 Stores are taunting me by starting to display pumpkins and gourds and all sorts of fall decor. I was at Hobby Lobby the other day and they had their Christmas trees out. Seriously, it's only August and still a million degrees here.
It's a cruel joke to play on someone who lives for the fall season.
So, to console myself and attempt to enjoy what is hopefully the last vestige of summer, I decided to make sangria.
And you know what goes great with sangria? These tacos: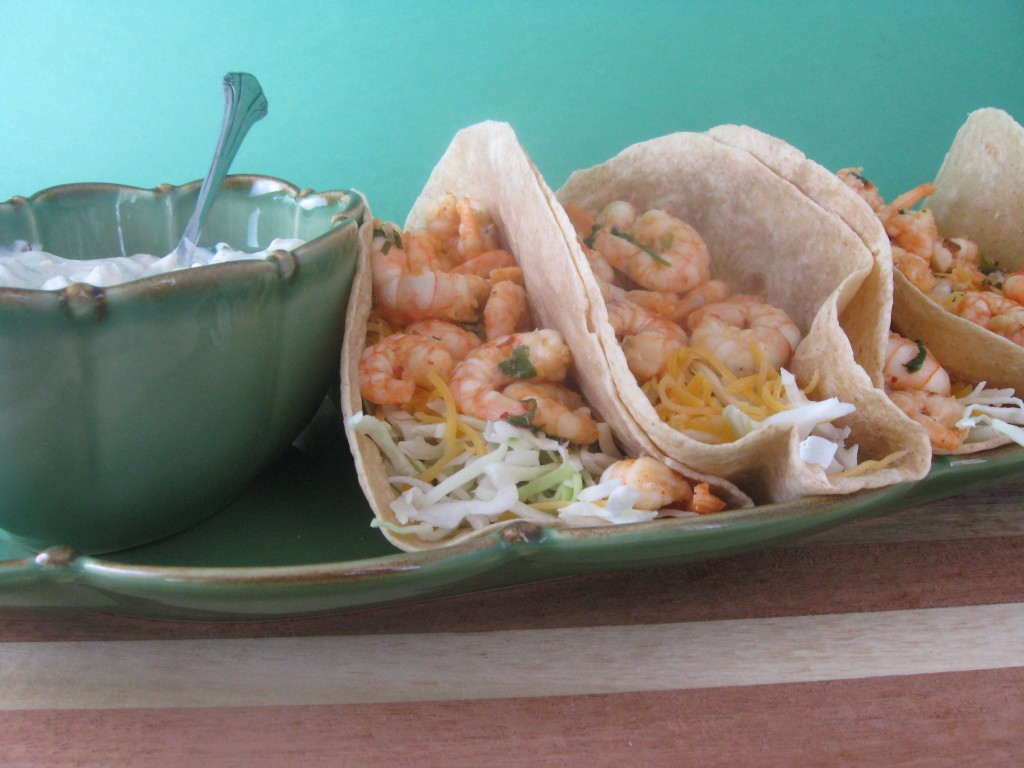 Don't be fooled by my lame-o pictures. These really are fabulous, especially drizzled with the southwest sauce.
Ingredients
2 pounds raw shrimp, peeled and deveined
2 tablespoon fish or seafood seasoning
3 garlic cloves, minced
1/3 cup lime juice
3 tablespoons lemon juice
soft taco-size flour tortillas
1 bag shredded lettuce or cole slaw mix
Instructions
Combine seasoning and garlic in a long, shallow dish. Add lime juice, lemon juice and shrimp, turning to coat. Cover and chill 10 minutes.
Drizzle a tablespoon of olive oil in pan. Remove shrimp from marinade and cook 2-3 minutes on each side or until shrimp turn pink.
Serve in warm tortillas with shredded cheese, roasted corn, and Southwest Cream Sauce (recipe below).
Ingredients
1 (16-oz.) container sour cream
1 garlic clove, minced
2 tablespoons finely chopped red onion
1 teaspoon chili powder
1/2 teaspoon ground cumin
1/2 teaspoon ground red pepper
1/4 teaspoon salt
2 tablespoons chopped fresh cilantro
2 tablespoons fresh lime juice
Instructions
Whisk together sour cream; garlic, red onion; chili powder; cumin; ground red pepper; and salt.
Whisk in cilantro and lime juice until smooth.
Cover and chill until ready to serve.
10 EASY SLOW COOKER MEALS RECIPE BOOK
Interestingly enough, I didn't grow up with an interest in cooking.  In fact, I informed my mother on multiple occasions that I was not getting an advanced education so I could spend my evenings preparing meals.
<p><div class="et_pb_portfolio_grid clearfix et_pb_module et_pb_bg_layout_light et_pb_dpblog_portfolio_1″></p>
<p><div id="post-11435″ class="et_pb_portfolio_item et_pb_grid_item post-11435 type-post status-draft format-standard has-post-thumbnail hentry category-uncategorized"></p>
<p><a href="https://kitchenmeetsgirl.com/?p=11435″><br />
<span class="et_portfolio_image"><br />
<img src="https://kitchenmeetsgirl.com/wp-content/uploads/2017/01/freezer-guidelines.png" alt='The Ins and Outs of Freezer Storage' width='400′ height='284′ /> <span class="et_overlay et_pb_inline_icon" data-icon=""></span> </span><br />
</a></p>
<p><h2><a href="https://kitchenmeetsgirl.com/?p=11435″>The Ins and Outs of Freezer Storage</a></h2></p>
<p><a href="https://kitchenmeetsgirl.com/?p=11435″ class="more-link" >read more</a> </div> <!– .et_pb_portfolio_item –></p>
<p><div id="post-11416″ class="et_pb_portfolio_item et_pb_grid_item post-11416 type-post status-draft format-standard has-post-thumbnail hentry category-main-dishes category-healthier-options category-soups-and-salads"></p>
<p><a href="https://kitchenmeetsgirl.com/?p=11416″><br />
<span class="et_portfolio_image"><br />
<img src="https://kitchenmeetsgirl.com/wp-content/uploads/2017/01/Chicken-Queso-Soup-title.png" alt='Slow Cooker Chicken Queso Chili' width='400′ height='284′ /> <span class="et_overlay et_pb_inline_icon" data-icon=""></span> </span><br />
</a></p>
<p><h2><a href="https://kitchenmeetsgirl.com/?p=11416″>Slow Cooker Chicken Queso Chili</a></h2></p>
<p><a href="https://kitchenmeetsgirl.com/?p=11416″ class="more-link" >read more</a> </div> <!– .et_pb_portfolio_item –></p>
<p><div id="post-11399″ class="et_pb_portfolio_item et_pb_grid_item post-11399 type-post status-draft format-standard has-post-thumbnail hentry category-uncategorized tag-free-printable tag-freezer-inventory-list tag-kitchen tag-organizing"></p>
<p><a href="https://kitchenmeetsgirl.com/?p=11399″><br />
<span class="et_portfolio_image"><br />
<img src="https://kitchenmeetsgirl.com/wp-content/uploads/2017/01/freezer-inventory.png" alt='Why You Should Keep a Freezer Inventory List' width='400′ height='284′ /> <span class="et_overlay et_pb_inline_icon" data-icon=""></span> </span><br />
</a></p>
<p><h2><a href="https://kitchenmeetsgirl.com/?p=11399″>Why You Should Keep a Freezer Inventory List</a></h2></p>
<p><a href="https://kitchenmeetsgirl.com/?p=11399″ class="more-link" >read more</a> </div> <!– .et_pb_portfolio_item –><br />
</div> <!– .et_pb_portfolio –><div class="pagination clearfix"><br />
<div class="alignleft"><a href="https://kitchenmeetsgirl.com/wp-admin/admin-ajax.php?paged=2″ >« Older Entries</a></div><br />
<div class="alignright"></div><br />
</div></p>
[/et_pb_dpblog_portfolio]