Cookies and Cream Cupcakes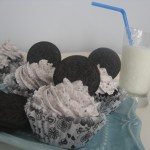 You know what's great about cupcakes?
Pretty much everything.
Kids love them. Adults love them. They're perfect for birthdays, showers, work functions, or you know–just on a Thursday.
Plus, they provide built-in portion control. Unless you eat the entire batch. Just sayin'. Which is quite possible in this instance–because holy cannoli–these are fabu.
Chunk up your Oreos (one per muffin cup) and place in your tins.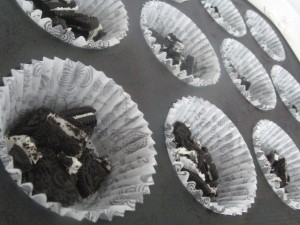 Note to self: don't leave the package of Oreos in your car on a 108 degree day and expect them to chop nicely. Not happening.
Whisk together flour, cocoa, sugar, baking soda, baking powder and salt in a large bowl. Allow your toddler to "help" you so that you have someone to blame the mess on when your husband comes home.
Next, add eggs, vegetable oil, milk and vanilla. Then add hot water and mix well. Your batter will be very runny at this point, but that's okay. It's the trick to making these extra moist, and also cancels out the calories from the sugar.
Just kidding. Well, not about how moist these will turn out. That's a fact.
Spoon your batter into cups, about three-quarters full. I used a cookie scoop.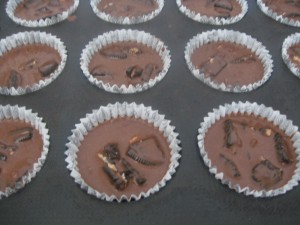 Bake at 350 for 16 to 18 minutes. The Oreos will float to the top when baked. Oh, so yummy!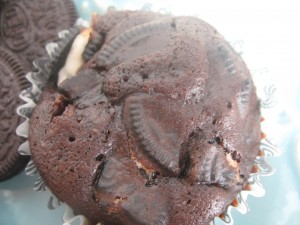 To make your frosting, use a food processor to finely chop 4 Oreo cookies. Set aside.
In a large mixer bowl, combine 1 cup shortening, 1 tablespoon of vanilla, and approximately 4 tablespoons water. Add 1 pound of powdered sugar, in portions, and 1 tablespoon meringue powder until well blended. Stir in cookie crumbs.
I used a Wilton 1M tip to pipe my frosting.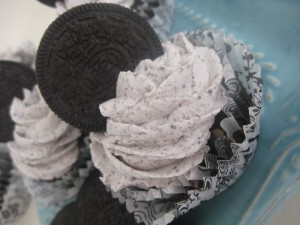 Cookies and Cream Cupcakes – recipe from Bakerella – click to print
Ingredients:
1 1/2 cups flour
1/2 cup cocoa powder
1 1/4 cup sugar
3/4 teaspoon baking soda
1/2 teaspoon baking powder
1/2 teaspoon salt
2 eggs
1/2 cup vegetable oil
1 teaspoon vanilla
3/4 cup milk
3/4 cup hot water
36 Oreos, plus more for crumbs
Preparation Instructions–Makes approximately 18 cupcakes:
Place Oreo chunks into muffin cups.
Mix first six ingredients, though the salt, in a large bowl with a whisk.
Add eggs, oil, milk, and vanilla and mix well. Stir in hot water.
Fill muffin cups three-quarters full and bake at 350 for 16 to 18 minutes.
10 EASY SLOW COOKER MEALS RECIPE BOOK
Interestingly enough, I didn't grow up with an interest in cooking.  In fact, I informed my mother on multiple occasions that I was not getting an advanced education so I could spend my evenings preparing meals.
<p><div class="et_pb_portfolio_grid clearfix et_pb_module et_pb_bg_layout_light et_pb_dpblog_portfolio_1″></p>
<p><div id="post-11435″ class="et_pb_portfolio_item et_pb_grid_item post-11435 type-post status-draft format-standard has-post-thumbnail hentry category-uncategorized"></p>
<p><a href="https://kitchenmeetsgirl.com/?p=11435″><br />
<span class="et_portfolio_image"><br />
<img src="https://kitchenmeetsgirl.com/wp-content/uploads/2017/01/freezer-guidelines.png" alt='The Ins and Outs of Freezer Storage' width='400′ height='284′ /> <span class="et_overlay et_pb_inline_icon" data-icon=""></span> </span><br />
</a></p>
<p><h2><a href="https://kitchenmeetsgirl.com/?p=11435″>The Ins and Outs of Freezer Storage</a></h2></p>
<p><a href="https://kitchenmeetsgirl.com/?p=11435″ class="more-link" >read more</a> </div> <!– .et_pb_portfolio_item –></p>
<p><div id="post-11416″ class="et_pb_portfolio_item et_pb_grid_item post-11416 type-post status-draft format-standard has-post-thumbnail hentry category-main-dishes category-healthier-options category-soups-and-salads"></p>
<p><a href="https://kitchenmeetsgirl.com/?p=11416″><br />
<span class="et_portfolio_image"><br />
<img src="https://kitchenmeetsgirl.com/wp-content/uploads/2017/01/Chicken-Queso-Soup-title.png" alt='Slow Cooker Chicken Queso Chili' width='400′ height='284′ /> <span class="et_overlay et_pb_inline_icon" data-icon=""></span> </span><br />
</a></p>
<p><h2><a href="https://kitchenmeetsgirl.com/?p=11416″>Slow Cooker Chicken Queso Chili</a></h2></p>
<p><a href="https://kitchenmeetsgirl.com/?p=11416″ class="more-link" >read more</a> </div> <!– .et_pb_portfolio_item –></p>
<p><div id="post-11399″ class="et_pb_portfolio_item et_pb_grid_item post-11399 type-post status-draft format-standard has-post-thumbnail hentry category-uncategorized tag-free-printable tag-freezer-inventory-list tag-kitchen tag-organizing"></p>
<p><a href="https://kitchenmeetsgirl.com/?p=11399″><br />
<span class="et_portfolio_image"><br />
<img src="https://kitchenmeetsgirl.com/wp-content/uploads/2017/01/freezer-inventory.png" alt='Why You Should Keep a Freezer Inventory List' width='400′ height='284′ /> <span class="et_overlay et_pb_inline_icon" data-icon=""></span> </span><br />
</a></p>
<p><h2><a href="https://kitchenmeetsgirl.com/?p=11399″>Why You Should Keep a Freezer Inventory List</a></h2></p>
<p><a href="https://kitchenmeetsgirl.com/?p=11399″ class="more-link" >read more</a> </div> <!– .et_pb_portfolio_item –><br />
</div> <!– .et_pb_portfolio –><div class="pagination clearfix"><br />
<div class="alignleft"><a href="https://kitchenmeetsgirl.com/wp-admin/admin-ajax.php?paged=2″ >« Older Entries</a></div><br />
<div class="alignright"></div><br />
</div></p>
[/et_pb_dpblog_portfolio]