TBIM! Too Bad It's Monday!
Like that saying? I'm so clever, I tell you what. It's my new catch-phrase for the day. I'm thinking of copywriting it, but that would take time and work, and I think we've already established that I'm typically looking for ways to avoid work, not make more.
Mondays are always a bummer for me. Even though I do actually enjoy my "real" job, it's a bit depressing to think about another five long days away from my little Doodlebug. He's growing way too fast, and every moment away from him digs at my heart.
On the other hand, the nice thing about Mondays is the prospect of a whole new week–seven days to accomplish all sorts of important tasks. A clean slate. A fresh start. The chance to get things done; make progress; be productive.
And then I spot my never-ending, ever-growing mound of laundry; the piles of Hot Wheels overtaking my house; the sticky, juice-coated refrigerator door handle that I just cleaned and I realize any chance of productivity is a pipe dream.
Staying even is my goal these days.
Anyway, since I tend to console myself with food, I decided to make these: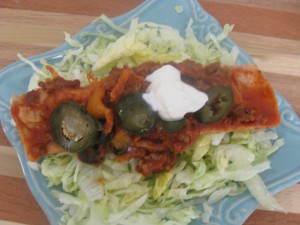 And, as the law of Mondays go, things did not go as planned when I attempted to upload my pictures. I'm saving you from a long, drawn out story here, but believe me when I said I had some additional pretty pictures to show you. I'm lucky I ended up with these.
Happy Monday!
Cream Cheese Enchiladas – click to print
Ingredients:
1 pound ground beef, browned and drained
1/2 cup chopped onion
2 (15 ounce) cans tomato sauce
1 package taco seasoning
1 tablespoon cumin
2 (8 ounce) packages cream cheese
12 medium flour tortillas
2 cups shredded cheddar cheese
1 small can sliced black olives
Preparation Instructions:
Brown ground beef with onion and drain.
Add seasonings and tomato sauce and simmer for 10 minutes.
Spread cream cheese over tortillas. Roll up, and place in a 13×9 pan.
Pour beef mixture over tortillas. Sprinkle with olives and cheese.
Cover and bake 25 minutes at 375.
Serve with shredded lettuce, sour cream, and jalepenos.
10 EASY SLOW COOKER MEALS RECIPE BOOK
Interestingly enough, I didn't grow up with an interest in cooking.  In fact, I informed my mother on multiple occasions that I was not getting an advanced education so I could spend my evenings preparing meals.
<p><div class="et_pb_portfolio_grid clearfix et_pb_module et_pb_bg_layout_light et_pb_dpblog_portfolio_1″></p>
<p><div id="post-11435″ class="et_pb_portfolio_item et_pb_grid_item post-11435 type-post status-draft format-standard has-post-thumbnail hentry category-uncategorized"></p>
<p><a href="https://kitchenmeetsgirl.com/?p=11435″><br />
<span class="et_portfolio_image"><br />
<img src="https://kitchenmeetsgirl.com/wp-content/uploads/2017/01/freezer-guidelines.png" alt='The Ins and Outs of Freezer Storage' width='400′ height='284′ /> <span class="et_overlay et_pb_inline_icon" data-icon=""></span> </span><br />
</a></p>
<p><h2><a href="https://kitchenmeetsgirl.com/?p=11435″>The Ins and Outs of Freezer Storage</a></h2></p>
<p><a href="https://kitchenmeetsgirl.com/?p=11435″ class="more-link" >read more</a> </div> <!– .et_pb_portfolio_item –></p>
<p><div id="post-11416″ class="et_pb_portfolio_item et_pb_grid_item post-11416 type-post status-draft format-standard has-post-thumbnail hentry category-main-dishes category-healthier-options category-soups-and-salads"></p>
<p><a href="https://kitchenmeetsgirl.com/?p=11416″><br />
<span class="et_portfolio_image"><br />
<img src="https://kitchenmeetsgirl.com/wp-content/uploads/2017/01/Chicken-Queso-Soup-title.png" alt='Slow Cooker Chicken Queso Chili' width='400′ height='284′ /> <span class="et_overlay et_pb_inline_icon" data-icon=""></span> </span><br />
</a></p>
<p><h2><a href="https://kitchenmeetsgirl.com/?p=11416″>Slow Cooker Chicken Queso Chili</a></h2></p>
<p><a href="https://kitchenmeetsgirl.com/?p=11416″ class="more-link" >read more</a> </div> <!– .et_pb_portfolio_item –></p>
<p><div id="post-11399″ class="et_pb_portfolio_item et_pb_grid_item post-11399 type-post status-draft format-standard has-post-thumbnail hentry category-uncategorized tag-free-printable tag-freezer-inventory-list tag-kitchen tag-organizing"></p>
<p><a href="https://kitchenmeetsgirl.com/?p=11399″><br />
<span class="et_portfolio_image"><br />
<img src="https://kitchenmeetsgirl.com/wp-content/uploads/2017/01/freezer-inventory.png" alt='Why You Should Keep a Freezer Inventory List' width='400′ height='284′ /> <span class="et_overlay et_pb_inline_icon" data-icon=""></span> </span><br />
</a></p>
<p><h2><a href="https://kitchenmeetsgirl.com/?p=11399″>Why You Should Keep a Freezer Inventory List</a></h2></p>
<p><a href="https://kitchenmeetsgirl.com/?p=11399″ class="more-link" >read more</a> </div> <!– .et_pb_portfolio_item –><br />
</div> <!– .et_pb_portfolio –><div class="pagination clearfix"><br />
<div class="alignleft"><a href="https://kitchenmeetsgirl.com/wp-admin/admin-ajax.php?paged=2″ >« Older Entries</a></div><br />
<div class="alignright"></div><br />
</div></p>
[/et_pb_dpblog_portfolio]