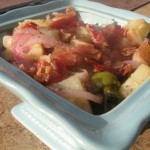 My husband and I took this week off work for a stay-cation. As our (un)luck would have it, we're setting record temperatures here in Kansas, and it's too hot to do anything but sit on an air-conditioner vent and eat ice cubes. Plans for the zoo and mini-golf? Not happening.
It was 111 degrees here on Sunday. No joke. I'm pretty sure it's not supposed to be that hot anywhere outside of the Mohave Desert. Maybe not even there.
So, not being in the kitchen is top on my priority list this week, at least not while the oven and/or stove is on. Am I cooking everything I possibly can on the charcoal grill? Absolutely.
Grilled Potato Salad (click to print)
1 1/2 pounds small red potatoes, quartered
1 small onion, thinly sliced
1 green bell pepper, cut into strips
4 bacon slices
1/4 cup red wine vinegar
1/4 cup chicken broth
2 tablespoons vegetable oil
2-3 garlic cloves, minced
salt and pepper, to taste
Preparation Instructions:
In a heavy-duty aluminum foil tray, pile in your potatoes and veggies. Drizzle with olive oil, and place bacon slices on top.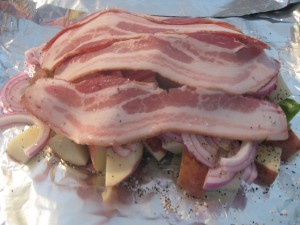 Grill over medium to high heat for approximately 15 to 20 minutes, or until vegetables are tender.
While vegetables cook, whisk together vinegar, broth, vegetable oil and garlic.
Place grilled vegetables in a large bowl, and crumble bacon slices over the top. Shake vinegar dressing to mix and pour over veggies. Serve immediately, or cover and chill until ready to serve.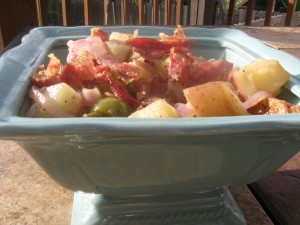 10 EASY SLOW COOKER MEALS RECIPE BOOK
Interestingly enough, I didn't grow up with an interest in cooking.  In fact, I informed my mother on multiple occasions that I was not getting an advanced education so I could spend my evenings preparing meals.
<p><div class="et_pb_portfolio_grid clearfix et_pb_module et_pb_bg_layout_light et_pb_dpblog_portfolio_1″></p>
<p><div id="post-11435″ class="et_pb_portfolio_item et_pb_grid_item post-11435 type-post status-draft format-standard has-post-thumbnail hentry category-uncategorized"></p>
<p><a href="https://kitchenmeetsgirl.com/?p=11435″><br />
<span class="et_portfolio_image"><br />
<img src="https://kitchenmeetsgirl.com/wp-content/uploads/2017/01/freezer-guidelines.png" alt='The Ins and Outs of Freezer Storage' width='400′ height='284′ /> <span class="et_overlay et_pb_inline_icon" data-icon=""></span> </span><br />
</a></p>
<p><h2><a href="https://kitchenmeetsgirl.com/?p=11435″>The Ins and Outs of Freezer Storage</a></h2></p>
<p><a href="https://kitchenmeetsgirl.com/?p=11435″ class="more-link" >read more</a> </div> <!– .et_pb_portfolio_item –></p>
<p><div id="post-11416″ class="et_pb_portfolio_item et_pb_grid_item post-11416 type-post status-draft format-standard has-post-thumbnail hentry category-main-dishes category-healthier-options category-soups-and-salads"></p>
<p><a href="https://kitchenmeetsgirl.com/?p=11416″><br />
<span class="et_portfolio_image"><br />
<img src="https://kitchenmeetsgirl.com/wp-content/uploads/2017/01/Chicken-Queso-Soup-title.png" alt='Slow Cooker Chicken Queso Chili' width='400′ height='284′ /> <span class="et_overlay et_pb_inline_icon" data-icon=""></span> </span><br />
</a></p>
<p><h2><a href="https://kitchenmeetsgirl.com/?p=11416″>Slow Cooker Chicken Queso Chili</a></h2></p>
<p><a href="https://kitchenmeetsgirl.com/?p=11416″ class="more-link" >read more</a> </div> <!– .et_pb_portfolio_item –></p>
<p><div id="post-11399″ class="et_pb_portfolio_item et_pb_grid_item post-11399 type-post status-draft format-standard has-post-thumbnail hentry category-uncategorized tag-free-printable tag-freezer-inventory-list tag-kitchen tag-organizing"></p>
<p><a href="https://kitchenmeetsgirl.com/?p=11399″><br />
<span class="et_portfolio_image"><br />
<img src="https://kitchenmeetsgirl.com/wp-content/uploads/2017/01/freezer-inventory.png" alt='Why You Should Keep a Freezer Inventory List' width='400′ height='284′ /> <span class="et_overlay et_pb_inline_icon" data-icon=""></span> </span><br />
</a></p>
<p><h2><a href="https://kitchenmeetsgirl.com/?p=11399″>Why You Should Keep a Freezer Inventory List</a></h2></p>
<p><a href="https://kitchenmeetsgirl.com/?p=11399″ class="more-link" >read more</a> </div> <!– .et_pb_portfolio_item –><br />
</div> <!– .et_pb_portfolio –><div class="pagination clearfix"><br />
<div class="alignleft"><a href="https://kitchenmeetsgirl.com/wp-admin/admin-ajax.php?paged=2″ >« Older Entries</a></div><br />
<div class="alignright"></div><br />
</div></p>
[/et_pb_dpblog_portfolio]