Once upon a time, in a very sad and lonely land, lived a girl who didn't like football. Not only did she not like football, she didn't know anything about it, and didn't care to (the time she asked that cauuuuuute french horn player in high school to sit by her at the game and "explain the rules" didn't count).
She didn't like it, that is, until she went off to graduate school at a college that lived and breathed football. And quickly learned that if she wasn't into football, well, then she was just weird.
She didn't want to be weird.
Quite honestly, it was hard not be into it when the entire town was a constant barrage of purple and white. Also, since football parties usually entailed food and um, drinks, she learned to like it pretty quickly. And her world was a happier place.
The end.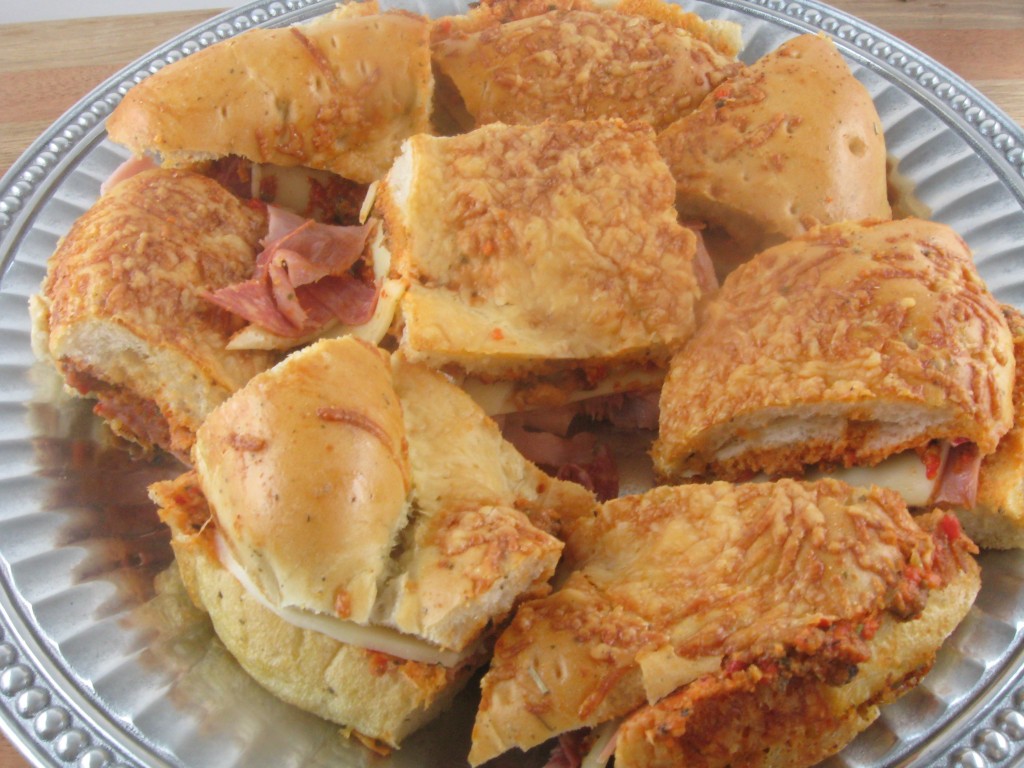 Recipe: Party Muffulettas
[print_link]
Ingredients
1 loaf bakery bread (I used an Asiago loaf)
olive salad (recipe below)
3/4 pounds each of thinly sliced salami and ham
sliced provolone cheese
Instructions
Slice bakery loaf in half. Spread olive salad over the bottom.
Layer salami, ham and cheese over salad.
Top with more olive salad, and cut into bite-size sandwiches.
Store in an airtight container in refrigerator up to 2 days before serving.
Recipe: Olive Salad
[print_link]
Ingredients
1 12-ounce jar roasted red bell peppers, undrained
1 13-ounce jar jalepeno-stuffed olives
1 6-ounce can pitted ripe black olives, drained
1/2 cup coarsely chopped red onion
5 pepperoncini peppers, cut in half
2 teaspoon dried Italian seasoning
1/4 cup olive oil
1/4 teaspoon freshly ground black pepper
Instructions
Drain roasted red bell peppers, reserving 1 tablespoon liquid.
Pulse all ingredients and reserved liquid in a food processor until coarsely chopped.
Cover and store in refrigerator until ready to use.
Recipe from Christmas with Southern Living 2009
Cooking, Food & Wine Books)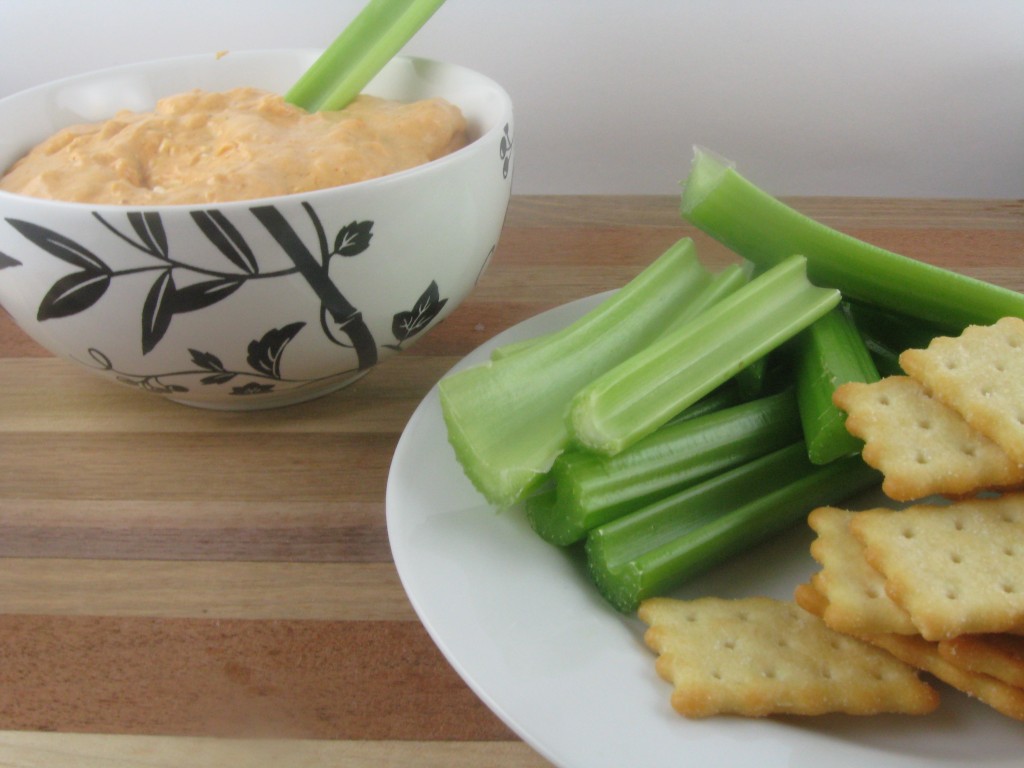 [print_link]
Ingredients
1 cup cooked chicken, chopped
1 8-ounce package cream cheese, softened (I used fat-free)
1/2 cup Ranch dressing
1/4 cup plus 2 tablespoons Frank's Red Hot, Buffalo style
3/4 cup shredded cheedar cheese
1/2 bunch celery, for dipping
Instructions
Heat chicken and hot sauce in a skillet over medium heat until heated through.
Stir in cream cheese and dressing.
Cook, stirring until well blended and warm.
Mix in the cheese.
Serve warm with celery sticks.
If you're a true tailgater, make this dip ahead and keep warm on the grill in a saucepan!
Recipe from Allrecipes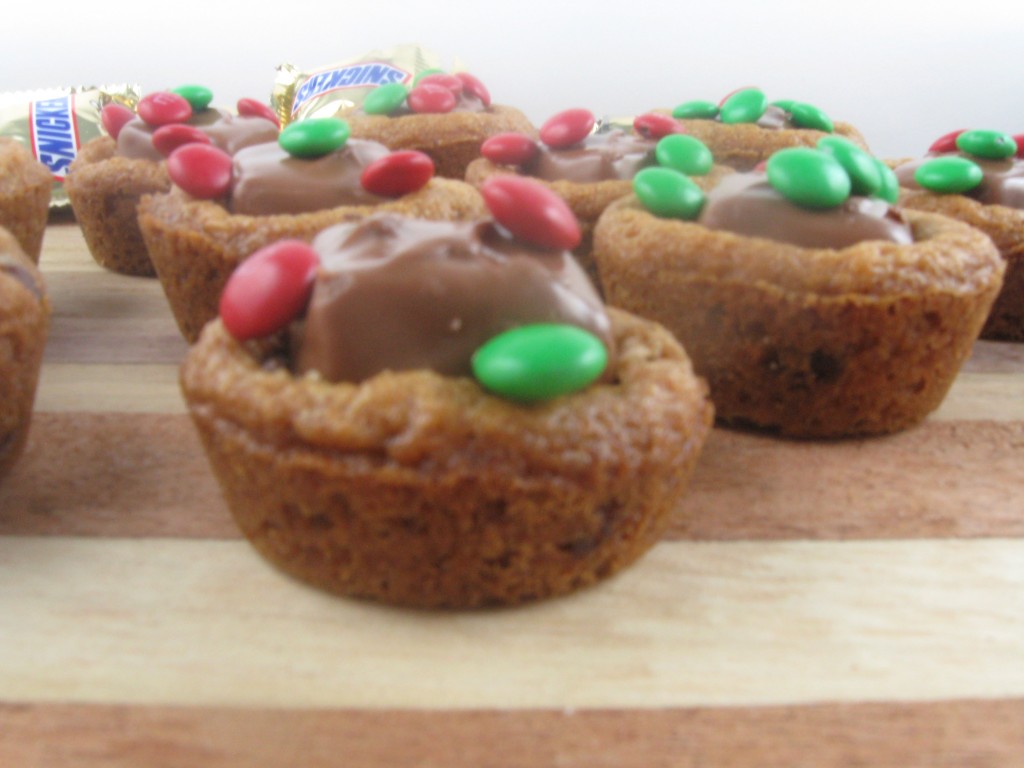 [print_link]
Ingredients
1 16.5 ounce package refrigerated chocolate chip cookie dough
24 Snickers minis
mini-M&M's, in your team colors
Instructions
Divide dough into 24 balls and placed in greased mini-muffin pan.
Bake 12 to 15 minutes at 350, until edges are lightly browned.
Remove from oven, and press 1 bite size Snickers into each cookie.
Sprinkle with mini-M&M's.
Recipe from Southern Living, July 2009
Don't forget–today is the last day to enter to win the Wilton Donut pan! Click here for a chance to win.
Also, a huge thank you to Amy, the Fearless Homemaker, for helping a technological moron (me!) figure out how to get printable recipes working. If you haven't checked out her blog, do it now. There are soooo many yummy recipes there, I don't know where to start!
And, a long overdue thank you to Char at Delight Design Biz for making my awesome blog header and basically designing my entire site. Seriously, I barely know how to get music on my iPod, let alone design a web page. You wouldn't want to know what this blog would have looked like without Char's help. Shudder.
Happy Friday, and GO STATE!
10 EASY SLOW COOKER MEALS RECIPE BOOK
Interestingly enough, I didn't grow up with an interest in cooking.  In fact, I informed my mother on multiple occasions that I was not getting an advanced education so I could spend my evenings preparing meals.
<p><div class="et_pb_portfolio_grid clearfix et_pb_module et_pb_bg_layout_light et_pb_dpblog_portfolio_1″></p>
<p><div id="post-11435″ class="et_pb_portfolio_item et_pb_grid_item post-11435 type-post status-draft format-standard has-post-thumbnail hentry category-uncategorized"></p>
<p><a href="https://kitchenmeetsgirl.com/?p=11435″><br />
<span class="et_portfolio_image"><br />
<img src="https://kitchenmeetsgirl.com/wp-content/uploads/2017/01/freezer-guidelines.png" alt='The Ins and Outs of Freezer Storage' width='400′ height='284′ /> <span class="et_overlay et_pb_inline_icon" data-icon=""></span> </span><br />
</a></p>
<p><h2><a href="https://kitchenmeetsgirl.com/?p=11435″>The Ins and Outs of Freezer Storage</a></h2></p>
<p><a href="https://kitchenmeetsgirl.com/?p=11435″ class="more-link" >read more</a> </div> <!– .et_pb_portfolio_item –></p>
<p><div id="post-11416″ class="et_pb_portfolio_item et_pb_grid_item post-11416 type-post status-draft format-standard has-post-thumbnail hentry category-main-dishes category-healthier-options category-soups-and-salads"></p>
<p><a href="https://kitchenmeetsgirl.com/?p=11416″><br />
<span class="et_portfolio_image"><br />
<img src="https://kitchenmeetsgirl.com/wp-content/uploads/2017/01/Chicken-Queso-Soup-title.png" alt='Slow Cooker Chicken Queso Chili' width='400′ height='284′ /> <span class="et_overlay et_pb_inline_icon" data-icon=""></span> </span><br />
</a></p>
<p><h2><a href="https://kitchenmeetsgirl.com/?p=11416″>Slow Cooker Chicken Queso Chili</a></h2></p>
<p><a href="https://kitchenmeetsgirl.com/?p=11416″ class="more-link" >read more</a> </div> <!– .et_pb_portfolio_item –></p>
<p><div id="post-11399″ class="et_pb_portfolio_item et_pb_grid_item post-11399 type-post status-draft format-standard has-post-thumbnail hentry category-uncategorized tag-free-printable tag-freezer-inventory-list tag-kitchen tag-organizing"></p>
<p><a href="https://kitchenmeetsgirl.com/?p=11399″><br />
<span class="et_portfolio_image"><br />
<img src="https://kitchenmeetsgirl.com/wp-content/uploads/2017/01/freezer-inventory.png" alt='Why You Should Keep a Freezer Inventory List' width='400′ height='284′ /> <span class="et_overlay et_pb_inline_icon" data-icon=""></span> </span><br />
</a></p>
<p><h2><a href="https://kitchenmeetsgirl.com/?p=11399″>Why You Should Keep a Freezer Inventory List</a></h2></p>
<p><a href="https://kitchenmeetsgirl.com/?p=11399″ class="more-link" >read more</a> </div> <!– .et_pb_portfolio_item –><br />
</div> <!– .et_pb_portfolio –><div class="pagination clearfix"><br />
<div class="alignleft"><a href="https://kitchenmeetsgirl.com/wp-admin/admin-ajax.php?paged=2″ >« Older Entries</a></div><br />
<div class="alignright"></div><br />
</div></p>
[/et_pb_dpblog_portfolio]