Loaded Mashed Potato Casserole

I'm new to this whole world of blogging, but some of my favorite parts so far are "meeting" other bloggers, having instant access to so many fabulous recipes, and becoming more involved in the blogging community. Every time I find a new (to me) site, I'm always amazed at how many fabulous, talented and innovative folks are out there–hooray for the internet, for making the world just a little bit smaller, or at least for bringing us closer together.
So when I stumbled on Tina's Crazy Cooking Challenge, I knew I wanted to participate–especially when I saw that the topic for this month was mashed potatoes. I knew this was a blog post even the Tall Boy could get on board with–he loves mashed potatoes. Don't know about Crazy Cooking Challenge? Check it out: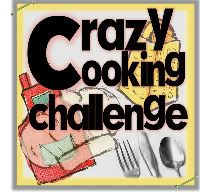 I typically reserve preparing mashed potatoes for special occasions, since (1) I always add lots of fattening ingredients, and (2) they require more effort that I'm willing to exert during the workweek (anyone else hate peeling as much as I do?).
Maybe you guys are already well-acquainted with Christy at The Girl Who Ate Everything, but I only just located her site when searching for a mashed potato recipe. Her site is fabulous! Soooo many good recipes here…if you haven't peeked at her site before, do it soon.
But one of the things that appealed to me about this recipe is that the ingredient list contains pretty much everything I use when making my own "recipe," but Christy adds a fun twist by baking it. This method is perfect for those of us who like to plan ahead, and don't want to be mashing potatoes while trying to entertain guests (I'd rather be chatting and snacking on appetizers by this point!).
As a side note, I used fat-free cheese, which doesn't melt as well as the full-fat version. Not quite as pretty, but still tastes pretty darn good.
Ingredients
5½ cups mashed potatoes
½ cup milk
1 8-ounce package cream cheese, softened
2 teaspoons dried parsley
1 teaspoon garlic salt
1 tablespoon rosemary garlic
¼ teaspoon ground nutmeg
1 cup shredded cheddar cheese
8 slices bacon, cooked and crumbled
Method
Preheat the oven to 35o°F.
Peel, quarter and boil potatoes until soft, about 15 to 20 minutes. Drain, and beat with a mixer until smooth. Add remaining ingredients, through the nutmeg. Beat at a medium-high speed until creamy. Add salt to taste.
Spoon into a greased 9x13 baking dish. Top with cheese and bacon. Cover and bake for 30 minutes. Uncover and bake for an additional 10 minutes, until cheese melts.
Serves 12. Unless one of those people is my husband. Then it will serve 3.
10 EASY SLOW COOKER MEALS RECIPE BOOK
Interestingly enough, I didn't grow up with an interest in cooking.  In fact, I informed my mother on multiple occasions that I was not getting an advanced education so I could spend my evenings preparing meals.
[et_pb_dpblog_portfolio admin_label="Fit Meets Girl Posts" fullwidth="off" posts_number="1″ custom_post_types="post" include_categories="127″ show_title="off" lightbox="off" popup="off" custom_url="off" custom_fields="off" show_categories="off" show_date="off" show_excerpt="off" show_more="off" show_pagination="off" background_layout="light" zoom_icon_color="#85e0d4″ hover_icon="%%190%%" title_font="Raleway Light|||on|" title_font_size="18″ use_border_color="off" border_color="#ffffff" border_style="solid" disabled="off" saved_tabs="all" global_module="12345″]
<p><div class="et_pb_portfolio_grid clearfix et_pb_module et_pb_bg_layout_light et_pb_dpblog_portfolio_1″></p>
<p><div id="post-11435″ class="et_pb_portfolio_item et_pb_grid_item post-11435 type-post status-draft format-standard has-post-thumbnail hentry category-uncategorized"></p>
<p><a href="https://kitchenmeetsgirl.com/?p=11435″><br />
<span class="et_portfolio_image"><br />
<img src="https://kitchenmeetsgirl.com/wp-content/uploads/2017/01/freezer-guidelines.png" alt='The Ins and Outs of Freezer Storage' width='400′ height='284′ /> <span class="et_overlay et_pb_inline_icon" data-icon=""></span> </span><br />
</a></p>
<p><h2><a href="https://kitchenmeetsgirl.com/?p=11435″>The Ins and Outs of Freezer Storage</a></h2></p>
<p><a href="https://kitchenmeetsgirl.com/?p=11435″ class="more-link" >read more</a> </div> <!– .et_pb_portfolio_item –></p>
<p><div id="post-11416″ class="et_pb_portfolio_item et_pb_grid_item post-11416 type-post status-draft format-standard has-post-thumbnail hentry category-main-dishes category-healthier-options category-soups-and-salads"></p>
<p><a href="https://kitchenmeetsgirl.com/?p=11416″><br />
<span class="et_portfolio_image"><br />
<img src="https://kitchenmeetsgirl.com/wp-content/uploads/2017/01/Chicken-Queso-Soup-title.png" alt='Slow Cooker Chicken Queso Chili' width='400′ height='284′ /> <span class="et_overlay et_pb_inline_icon" data-icon=""></span> </span><br />
</a></p>
<p><h2><a href="https://kitchenmeetsgirl.com/?p=11416″>Slow Cooker Chicken Queso Chili</a></h2></p>
<p><a href="https://kitchenmeetsgirl.com/?p=11416″ class="more-link" >read more</a> </div> <!– .et_pb_portfolio_item –></p>
<p><div id="post-11399″ class="et_pb_portfolio_item et_pb_grid_item post-11399 type-post status-draft format-standard has-post-thumbnail hentry category-uncategorized tag-free-printable tag-freezer-inventory-list tag-kitchen tag-organizing"></p>
<p><a href="https://kitchenmeetsgirl.com/?p=11399″><br />
<span class="et_portfolio_image"><br />
<img src="https://kitchenmeetsgirl.com/wp-content/uploads/2017/01/freezer-inventory.png" alt='Why You Should Keep a Freezer Inventory List' width='400′ height='284′ /> <span class="et_overlay et_pb_inline_icon" data-icon=""></span> </span><br />
</a></p>
<p><h2><a href="https://kitchenmeetsgirl.com/?p=11399″>Why You Should Keep a Freezer Inventory List</a></h2></p>
<p><a href="https://kitchenmeetsgirl.com/?p=11399″ class="more-link" >read more</a> </div> <!– .et_pb_portfolio_item –><br />
</div> <!– .et_pb_portfolio –><div class="pagination clearfix"><br />
<div class="alignleft"><a href="https://kitchenmeetsgirl.com/wp-admin/admin-ajax.php?paged=2″ >« Older Entries</a></div><br />
<div class="alignright"></div><br />
</div></p>
[/et_pb_dpblog_portfolio]
<p><div class="et_pb_portfolio_grid clearfix et_pb_module et_pb_bg_layout_light et_pb_dpblog_portfolio_1″></p>
<p><div id="post-11435″ class="et_pb_portfolio_item et_pb_grid_item post-11435 type-post status-draft format-standard has-post-thumbnail hentry category-uncategorized"></p>
<p><a href="https://kitchenmeetsgirl.com/?p=11435″><br />
<span class="et_portfolio_image"><br />
<img src="https://kitchenmeetsgirl.com/wp-content/uploads/2017/01/freezer-guidelines.png" alt='The Ins and Outs of Freezer Storage' width='400′ height='284′ /> <span class="et_overlay et_pb_inline_icon" data-icon=""></span> </span><br />
</a></p>
<p><h2><a href="https://kitchenmeetsgirl.com/?p=11435″>The Ins and Outs of Freezer Storage</a></h2></p>
<p><a href="https://kitchenmeetsgirl.com/?p=11435″ class="more-link" >read more</a> </div> <!– .et_pb_portfolio_item –></p>
<p><div id="post-11416″ class="et_pb_portfolio_item et_pb_grid_item post-11416 type-post status-draft format-standard has-post-thumbnail hentry category-main-dishes category-healthier-options category-soups-and-salads"></p>
<p><a href="https://kitchenmeetsgirl.com/?p=11416″><br />
<span class="et_portfolio_image"><br />
<img src="https://kitchenmeetsgirl.com/wp-content/uploads/2017/01/Chicken-Queso-Soup-title.png" alt='Slow Cooker Chicken Queso Chili' width='400′ height='284′ /> <span class="et_overlay et_pb_inline_icon" data-icon=""></span> </span><br />
</a></p>
<p><h2><a href="https://kitchenmeetsgirl.com/?p=11416″>Slow Cooker Chicken Queso Chili</a></h2></p>
<p><a href="https://kitchenmeetsgirl.com/?p=11416″ class="more-link" >read more</a> </div> <!– .et_pb_portfolio_item –></p>
<p><div id="post-11399″ class="et_pb_portfolio_item et_pb_grid_item post-11399 type-post status-draft format-standard has-post-thumbnail hentry category-uncategorized tag-free-printable tag-freezer-inventory-list tag-kitchen tag-organizing"></p>
<p><a href="https://kitchenmeetsgirl.com/?p=11399″><br />
<span class="et_portfolio_image"><br />
<img src="https://kitchenmeetsgirl.com/wp-content/uploads/2017/01/freezer-inventory.png" alt='Why You Should Keep a Freezer Inventory List' width='400′ height='284′ /> <span class="et_overlay et_pb_inline_icon" data-icon=""></span> </span><br />
</a></p>
<p><h2><a href="https://kitchenmeetsgirl.com/?p=11399″>Why You Should Keep a Freezer Inventory List</a></h2></p>
<p><a href="https://kitchenmeetsgirl.com/?p=11399″ class="more-link" >read more</a> </div> <!– .et_pb_portfolio_item –><br />
</div> <!– .et_pb_portfolio –><div class="pagination clearfix"><br />
<div class="alignleft"><a href="https://kitchenmeetsgirl.com/wp-admin/admin-ajax.php?paged=2″ >« Older Entries</a></div><br />
<div class="alignright"></div><br />
</div></p>
[/et_pb_dpblog_portfolio]
[et_pb_dpblog_portfolio admin_label="Featured Posts" fullwidth="off" posts_number="1″ custom_post_types="post" include_categories="123″ show_title="off" lightbox="off" popup="off" custom_url="off" custom_fields="off" show_categories="off" show_date="off" show_excerpt="off" show_more="off" show_pagination="off" background_layout="light" zoom_icon_color="#85e0d4″ hover_icon="%%190%%" title_font="Raleway Light|||on|" title_font_size="18″ use_border_color="off" border_color="#ffffff" border_style="solid" disabled="off" saved_tabs="all" global_module="12349″]
<p><div class="et_pb_portfolio_grid clearfix et_pb_module et_pb_bg_layout_light et_pb_dpblog_portfolio_1″></p>
<p><div id="post-11435″ class="et_pb_portfolio_item et_pb_grid_item post-11435 type-post status-draft format-standard has-post-thumbnail hentry category-uncategorized"></p>
<p><a href="https://kitchenmeetsgirl.com/?p=11435″><br />
<span class="et_portfolio_image"><br />
<img src="https://kitchenmeetsgirl.com/wp-content/uploads/2017/01/freezer-guidelines.png" alt='The Ins and Outs of Freezer Storage' width='400′ height='284′ /> <span class="et_overlay et_pb_inline_icon" data-icon=""></span> </span><br />
</a></p>
<p><h2><a href="https://kitchenmeetsgirl.com/?p=11435″>The Ins and Outs of Freezer Storage</a></h2></p>
<p><a href="https://kitchenmeetsgirl.com/?p=11435″ class="more-link" >read more</a> </div> <!– .et_pb_portfolio_item –></p>
<p><div id="post-11416″ class="et_pb_portfolio_item et_pb_grid_item post-11416 type-post status-draft format-standard has-post-thumbnail hentry category-main-dishes category-healthier-options category-soups-and-salads"></p>
<p><a href="https://kitchenmeetsgirl.com/?p=11416″><br />
<span class="et_portfolio_image"><br />
<img src="https://kitchenmeetsgirl.com/wp-content/uploads/2017/01/Chicken-Queso-Soup-title.png" alt='Slow Cooker Chicken Queso Chili' width='400′ height='284′ /> <span class="et_overlay et_pb_inline_icon" data-icon=""></span> </span><br />
</a></p>
<p><h2><a href="https://kitchenmeetsgirl.com/?p=11416″>Slow Cooker Chicken Queso Chili</a></h2></p>
<p><a href="https://kitchenmeetsgirl.com/?p=11416″ class="more-link" >read more</a> </div> <!– .et_pb_portfolio_item –></p>
<p><div id="post-11399″ class="et_pb_portfolio_item et_pb_grid_item post-11399 type-post status-draft format-standard has-post-thumbnail hentry category-uncategorized tag-free-printable tag-freezer-inventory-list tag-kitchen tag-organizing"></p>
<p><a href="https://kitchenmeetsgirl.com/?p=11399″><br />
<span class="et_portfolio_image"><br />
<img src="https://kitchenmeetsgirl.com/wp-content/uploads/2017/01/freezer-inventory.png" alt='Why You Should Keep a Freezer Inventory List' width='400′ height='284′ /> <span class="et_overlay et_pb_inline_icon" data-icon=""></span> </span><br />
</a></p>
<p><h2><a href="https://kitchenmeetsgirl.com/?p=11399″>Why You Should Keep a Freezer Inventory List</a></h2></p>
<p><a href="https://kitchenmeetsgirl.com/?p=11399″ class="more-link" >read more</a> </div> <!– .et_pb_portfolio_item –><br />
</div> <!– .et_pb_portfolio –><div class="pagination clearfix"><br />
<div class="alignleft"><a href="https://kitchenmeetsgirl.com/wp-admin/admin-ajax.php?paged=2″ >« Older Entries</a></div><br />
<div class="alignright"></div><br />
</div></p>
[/et_pb_dpblog_portfolio]
[widget id="categories-7"]
[widget id="collapsarch-4"]