Peach Crisp With Maple Cream Sauce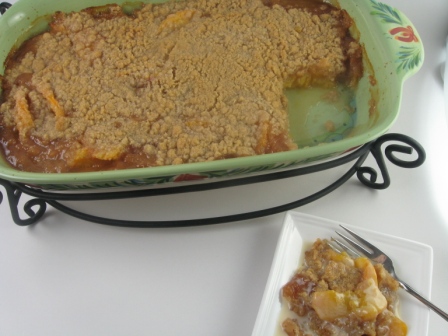 A few weeks ago, we got a bushel of peaches. We've had them plain, diced with a little bit of cinnamon, cooked with a bit of brown sugar and half-and-half and stuffed in french toast…
I've even canned–a peach salsa–for the first time in my life. Now I feel compelled to open all of the cans to make sure everything worked properly, though that sort of defeats the purpose of canning. And so the jars sit in my overflow pantry…until I get brave enough a month or so from now to try one. Or, I'll find them there a year from now because I was too freaked out to try them. One or the other.
In the midst of all this, Doodlebug–a kid who eat feta cheese out of a bowl with a spoon–informs me that he does not like peaches. If I wasn't involved with the whole birthing process, I'd swear this kid did not belong to me.
Anyway, we also made this peach crisp, which was amazing.
Start by combining your dry ingredients in a medium bowl–the flour, granulated sugar, brown sugar, cinnamon, nutmeg, and salt.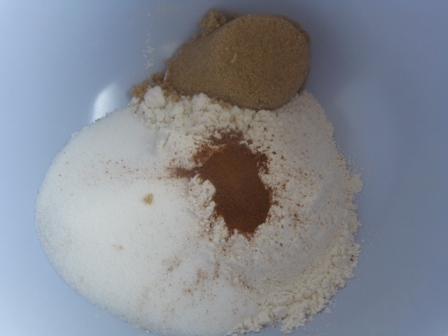 Next, cut your butter into your flour mixture, using a fork or a pastry blender.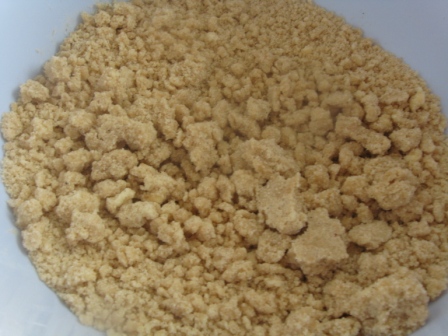 In a separate bowl, combine your peaches, lemon zest, lemon juice and maple syrup.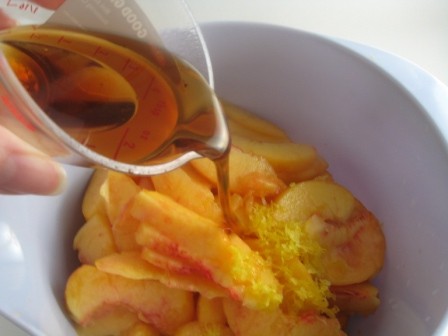 Pour the peaches into your baking dish…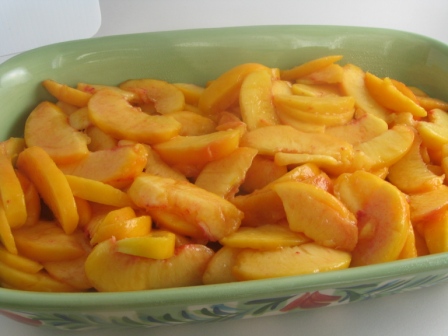 …and top with the crumb mixture.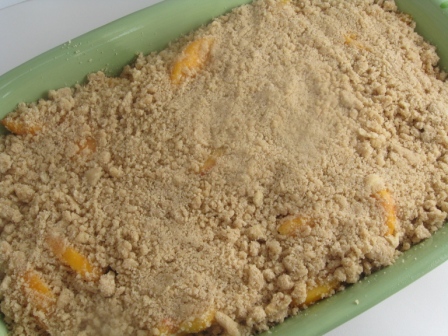 While the crisp is in the over, make your maple cream sauce. I cannot lie to you–while the crisp was fabulous, the star of this dish was the sauce.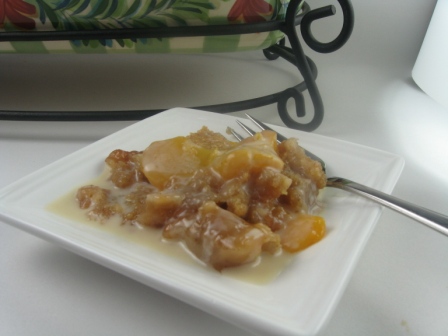 I may or may not have eaten this by the spoonful while also drizzling it over our warm crisp. The leftover I used in my coffee. It would also be great spooned over fresh-fruit topped french toast or waffles.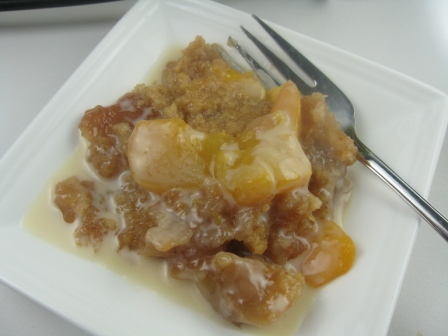 Peach Crisp With Maple Cream Sauce
makes a 9 x 9 crisp, adapted from The Pioneer Woman Cooks
Ingredients – for the cream sauce
1 1/2 cup heavy cream
5 tablespoons maple syrup
3 tablespoons light corn syrup
Ingredients – for the crisp
1 cup flour
1/2 cup granulated sugar
1/2 cup packed light brown sugar
1/2 teaspoon ground cinnamon
dash of nutmeg
1/4 teaspoon salt
1 stick cold butter
5 to 6 cups peeled and sliced peaches (about 6 medium peaches)
grated zest and juice of 1/2 lemon
2 tablespoons maple syrup
Directions
Preheat oven to 350 degrees.
To make your cream sauce, pour your cream into a heavy saucepan. Add maple syrup and corn syrup. Cook over moderate heat, stirring constantly until the sauce is thickened and reduced by a third, about 20 minutes. Chill.
In a medium bowl, combine the flour, sugars, cinnamon, nutmeg and salt.
Cut your butter into the flour mixture using a fork or a pastry blender, until it resembles a coarse meal.
In a separate bowl, combine your peaches, lemon zest, lemon juice, and maple syrup. Pour the peaches into your prepared pan, and top with the crumb mixture, evening out with a fork.
Cover tightly with foil, and bake for 15 minutes. Remove the foil and bake 30 additional minutes, until the top is golden brown. Spoon maple cream sauce over your warm crisp and enjoy!
[print_link]
10 EASY SLOW COOKER MEALS RECIPE BOOK
Interestingly enough, I didn't grow up with an interest in cooking.  In fact, I informed my mother on multiple occasions that I was not getting an advanced education so I could spend my evenings preparing meals.
[et_pb_dpblog_portfolio admin_label="Fit Meets Girl Posts" fullwidth="off" posts_number="1″ custom_post_types="post" include_categories="127″ show_title="off" lightbox="off" popup="off" custom_url="off" custom_fields="off" show_categories="off" show_date="off" show_excerpt="off" show_more="off" show_pagination="off" background_layout="light" zoom_icon_color="#85e0d4″ hover_icon="%%190%%" title_font="Raleway Light|||on|" title_font_size="18″ use_border_color="off" border_color="#ffffff" border_style="solid" disabled="off" saved_tabs="all" global_module="12345″]
<p><div class="et_pb_portfolio_grid clearfix et_pb_module et_pb_bg_layout_light et_pb_dpblog_portfolio_1″></p>
<p><div id="post-11435″ class="et_pb_portfolio_item et_pb_grid_item post-11435 type-post status-draft format-standard has-post-thumbnail hentry category-uncategorized"></p>
<p><a href="https://kitchenmeetsgirl.com/?p=11435″><br />
<span class="et_portfolio_image"><br />
<img src="https://kitchenmeetsgirl.com/wp-content/uploads/2017/01/freezer-guidelines.png" alt='The Ins and Outs of Freezer Storage' width='400′ height='284′ /> <span class="et_overlay et_pb_inline_icon" data-icon=""></span> </span><br />
</a></p>
<p><h2><a href="https://kitchenmeetsgirl.com/?p=11435″>The Ins and Outs of Freezer Storage</a></h2></p>
<p><a href="https://kitchenmeetsgirl.com/?p=11435″ class="more-link" >read more</a> </div> <!– .et_pb_portfolio_item –></p>
<p><div id="post-11416″ class="et_pb_portfolio_item et_pb_grid_item post-11416 type-post status-draft format-standard has-post-thumbnail hentry category-main-dishes category-healthier-options category-soups-and-salads"></p>
<p><a href="https://kitchenmeetsgirl.com/?p=11416″><br />
<span class="et_portfolio_image"><br />
<img src="https://kitchenmeetsgirl.com/wp-content/uploads/2017/01/Chicken-Queso-Soup-title.png" alt='Slow Cooker Chicken Queso Chili' width='400′ height='284′ /> <span class="et_overlay et_pb_inline_icon" data-icon=""></span> </span><br />
</a></p>
<p><h2><a href="https://kitchenmeetsgirl.com/?p=11416″>Slow Cooker Chicken Queso Chili</a></h2></p>
<p><a href="https://kitchenmeetsgirl.com/?p=11416″ class="more-link" >read more</a> </div> <!– .et_pb_portfolio_item –></p>
<p><div id="post-11399″ class="et_pb_portfolio_item et_pb_grid_item post-11399 type-post status-draft format-standard has-post-thumbnail hentry category-uncategorized tag-free-printable tag-freezer-inventory-list tag-kitchen tag-organizing"></p>
<p><a href="https://kitchenmeetsgirl.com/?p=11399″><br />
<span class="et_portfolio_image"><br />
<img src="https://kitchenmeetsgirl.com/wp-content/uploads/2017/01/freezer-inventory.png" alt='Why You Should Keep a Freezer Inventory List' width='400′ height='284′ /> <span class="et_overlay et_pb_inline_icon" data-icon=""></span> </span><br />
</a></p>
<p><h2><a href="https://kitchenmeetsgirl.com/?p=11399″>Why You Should Keep a Freezer Inventory List</a></h2></p>
<p><a href="https://kitchenmeetsgirl.com/?p=11399″ class="more-link" >read more</a> </div> <!– .et_pb_portfolio_item –><br />
</div> <!– .et_pb_portfolio –><div class="pagination clearfix"><br />
<div class="alignleft"><a href="https://kitchenmeetsgirl.com/wp-admin/admin-ajax.php?paged=2″ >« Older Entries</a></div><br />
<div class="alignright"></div><br />
</div></p>
[/et_pb_dpblog_portfolio]
<p><div class="et_pb_portfolio_grid clearfix et_pb_module et_pb_bg_layout_light et_pb_dpblog_portfolio_1″></p>
<p><div id="post-11435″ class="et_pb_portfolio_item et_pb_grid_item post-11435 type-post status-draft format-standard has-post-thumbnail hentry category-uncategorized"></p>
<p><a href="https://kitchenmeetsgirl.com/?p=11435″><br />
<span class="et_portfolio_image"><br />
<img src="https://kitchenmeetsgirl.com/wp-content/uploads/2017/01/freezer-guidelines.png" alt='The Ins and Outs of Freezer Storage' width='400′ height='284′ /> <span class="et_overlay et_pb_inline_icon" data-icon=""></span> </span><br />
</a></p>
<p><h2><a href="https://kitchenmeetsgirl.com/?p=11435″>The Ins and Outs of Freezer Storage</a></h2></p>
<p><a href="https://kitchenmeetsgirl.com/?p=11435″ class="more-link" >read more</a> </div> <!– .et_pb_portfolio_item –></p>
<p><div id="post-11416″ class="et_pb_portfolio_item et_pb_grid_item post-11416 type-post status-draft format-standard has-post-thumbnail hentry category-main-dishes category-healthier-options category-soups-and-salads"></p>
<p><a href="https://kitchenmeetsgirl.com/?p=11416″><br />
<span class="et_portfolio_image"><br />
<img src="https://kitchenmeetsgirl.com/wp-content/uploads/2017/01/Chicken-Queso-Soup-title.png" alt='Slow Cooker Chicken Queso Chili' width='400′ height='284′ /> <span class="et_overlay et_pb_inline_icon" data-icon=""></span> </span><br />
</a></p>
<p><h2><a href="https://kitchenmeetsgirl.com/?p=11416″>Slow Cooker Chicken Queso Chili</a></h2></p>
<p><a href="https://kitchenmeetsgirl.com/?p=11416″ class="more-link" >read more</a> </div> <!– .et_pb_portfolio_item –></p>
<p><div id="post-11399″ class="et_pb_portfolio_item et_pb_grid_item post-11399 type-post status-draft format-standard has-post-thumbnail hentry category-uncategorized tag-free-printable tag-freezer-inventory-list tag-kitchen tag-organizing"></p>
<p><a href="https://kitchenmeetsgirl.com/?p=11399″><br />
<span class="et_portfolio_image"><br />
<img src="https://kitchenmeetsgirl.com/wp-content/uploads/2017/01/freezer-inventory.png" alt='Why You Should Keep a Freezer Inventory List' width='400′ height='284′ /> <span class="et_overlay et_pb_inline_icon" data-icon=""></span> </span><br />
</a></p>
<p><h2><a href="https://kitchenmeetsgirl.com/?p=11399″>Why You Should Keep a Freezer Inventory List</a></h2></p>
<p><a href="https://kitchenmeetsgirl.com/?p=11399″ class="more-link" >read more</a> </div> <!– .et_pb_portfolio_item –><br />
</div> <!– .et_pb_portfolio –><div class="pagination clearfix"><br />
<div class="alignleft"><a href="https://kitchenmeetsgirl.com/wp-admin/admin-ajax.php?paged=2″ >« Older Entries</a></div><br />
<div class="alignright"></div><br />
</div></p>
[/et_pb_dpblog_portfolio]
[et_pb_dpblog_portfolio admin_label="Featured Posts" fullwidth="off" posts_number="1″ custom_post_types="post" include_categories="123″ show_title="off" lightbox="off" popup="off" custom_url="off" custom_fields="off" show_categories="off" show_date="off" show_excerpt="off" show_more="off" show_pagination="off" background_layout="light" zoom_icon_color="#85e0d4″ hover_icon="%%190%%" title_font="Raleway Light|||on|" title_font_size="18″ use_border_color="off" border_color="#ffffff" border_style="solid" disabled="off" saved_tabs="all" global_module="12349″]
<p><div class="et_pb_portfolio_grid clearfix et_pb_module et_pb_bg_layout_light et_pb_dpblog_portfolio_1″></p>
<p><div id="post-11435″ class="et_pb_portfolio_item et_pb_grid_item post-11435 type-post status-draft format-standard has-post-thumbnail hentry category-uncategorized"></p>
<p><a href="https://kitchenmeetsgirl.com/?p=11435″><br />
<span class="et_portfolio_image"><br />
<img src="https://kitchenmeetsgirl.com/wp-content/uploads/2017/01/freezer-guidelines.png" alt='The Ins and Outs of Freezer Storage' width='400′ height='284′ /> <span class="et_overlay et_pb_inline_icon" data-icon=""></span> </span><br />
</a></p>
<p><h2><a href="https://kitchenmeetsgirl.com/?p=11435″>The Ins and Outs of Freezer Storage</a></h2></p>
<p><a href="https://kitchenmeetsgirl.com/?p=11435″ class="more-link" >read more</a> </div> <!– .et_pb_portfolio_item –></p>
<p><div id="post-11416″ class="et_pb_portfolio_item et_pb_grid_item post-11416 type-post status-draft format-standard has-post-thumbnail hentry category-main-dishes category-healthier-options category-soups-and-salads"></p>
<p><a href="https://kitchenmeetsgirl.com/?p=11416″><br />
<span class="et_portfolio_image"><br />
<img src="https://kitchenmeetsgirl.com/wp-content/uploads/2017/01/Chicken-Queso-Soup-title.png" alt='Slow Cooker Chicken Queso Chili' width='400′ height='284′ /> <span class="et_overlay et_pb_inline_icon" data-icon=""></span> </span><br />
</a></p>
<p><h2><a href="https://kitchenmeetsgirl.com/?p=11416″>Slow Cooker Chicken Queso Chili</a></h2></p>
<p><a href="https://kitchenmeetsgirl.com/?p=11416″ class="more-link" >read more</a> </div> <!– .et_pb_portfolio_item –></p>
<p><div id="post-11399″ class="et_pb_portfolio_item et_pb_grid_item post-11399 type-post status-draft format-standard has-post-thumbnail hentry category-uncategorized tag-free-printable tag-freezer-inventory-list tag-kitchen tag-organizing"></p>
<p><a href="https://kitchenmeetsgirl.com/?p=11399″><br />
<span class="et_portfolio_image"><br />
<img src="https://kitchenmeetsgirl.com/wp-content/uploads/2017/01/freezer-inventory.png" alt='Why You Should Keep a Freezer Inventory List' width='400′ height='284′ /> <span class="et_overlay et_pb_inline_icon" data-icon=""></span> </span><br />
</a></p>
<p><h2><a href="https://kitchenmeetsgirl.com/?p=11399″>Why You Should Keep a Freezer Inventory List</a></h2></p>
<p><a href="https://kitchenmeetsgirl.com/?p=11399″ class="more-link" >read more</a> </div> <!– .et_pb_portfolio_item –><br />
</div> <!– .et_pb_portfolio –><div class="pagination clearfix"><br />
<div class="alignleft"><a href="https://kitchenmeetsgirl.com/wp-admin/admin-ajax.php?paged=2″ >« Older Entries</a></div><br />
<div class="alignright"></div><br />
</div></p>
[/et_pb_dpblog_portfolio]
[widget id="categories-7"]
[widget id="collapsarch-4"]