We eat a lot of spaghetti around our house.
A lot.
Like, maybe every week. If not that often, then at least every other week. Let's face it, it's quick, easy, economical, and even the pickiest toddler will eat it. I have my go-to sauce that I typically make, and, since my guys insist on having some sort of meat with their pasta–I usually add in my homemade meatballs. If you haven't made your own meatballs before, you're totally missing out. Seriously, they are so, so easy, and better than anything that you can get in the freezer case.
When I found out that this month's Crazy Cooking Challenge was for spaghetti and red sauce, I was a little hesitant to participate. Simply because I love the way we usually prepare our spaghetti, and what can I say–I'm boring a creature of habit. But then I decided this Challenge would be a great opportunity to try a different version of one of our favorite meals.
After searching Pinterest (time-suck, much???), I finally stumbled on the recipe I wanted to try: arribiata sauce from Live Love Pasta. It caught my attention because arrabiata sauce is basically a spicy marinara–and you know how I feel about spicy foods! Love 'em!
If you're not into the spicy scene, don't worry. The red pepper flakes listed in the recipe below won't make this dish overly spicy (my four-year old gobbled it up). But if you want a little extra heat, by all means, add a little more (we did!).
And, of course, I changed the recipe some, adding in meat, a bit of heavy cream to thicken the sauce, and a few extra spices. It was a nice change from our norm, and now I have a new red-sauce recipe in my arsenal to change things up every now and then!*
*Cheese-sprinkles courtesy of Doodle
Spicy Bolognese
Ingredients
2 tablespoons extra-virgin olive oil
1 pound lean ground sirloin
3-4 cloves garlic, minced
1 tablespoon oregano
1 teaspoon crushed red pepper flakes
1 cup red wine
1 28-ounce can tomato sauce
¼ cup tomato paste
1 tablespoon fresh lemon juice
Kosher salt and black pepper, to taste
¼ cup heavy cream
¼ cup chopped fresh basil leaves
freshly grated parmesan cheese
Method
Heat oil in a large saucepan over medium heat. Add the ground sirloin and cook until the meat has started to brown, about 5 to 7 minutes. Stir in the garlic, oregano, and red pepper flakes and cook for one more minute.
Pour in the wine to deglaze the bottom of the pan, scraping up all of the yummy brown bits.
Add the tomato sauce, tomato paste, lemon juice, and salt and pepper. Simmer uncovered, stirring occasionally, for about 20 minutes.
Add the heavy cream and basil, and simmer for an additional 10 minutes, until thickened.
Toss with spaghetti noodles and parmesan cheese.
I'm linking up over at Mom's Crazy Cooking Challenge today, and if you haven't checked out Tina's site, you should. She's got some great stuff over there.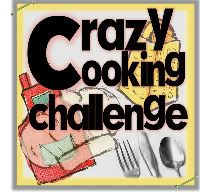 Check out my previous Challenge entries:
Dark Chocolate Cake with Hot Chocolate Buttercream
Creamy Chicken Noodle Soup
Eggnog Fudge
Loaded Mashed Potato Casserole
And be sure to check out all of the other great recipes from this month's participants!
10 EASY SLOW COOKER MEALS RECIPE BOOK
Interestingly enough, I didn't grow up with an interest in cooking.  In fact, I informed my mother on multiple occasions that I was not getting an advanced education so I could spend my evenings preparing meals.
[et_pb_dpblog_portfolio admin_label="Fit Meets Girl Posts" fullwidth="off" posts_number="1″ custom_post_types="post" include_categories="127″ show_title="off" lightbox="off" popup="off" custom_url="off" custom_fields="off" show_categories="off" show_date="off" show_excerpt="off" show_more="off" show_pagination="off" background_layout="light" zoom_icon_color="#85e0d4″ hover_icon="%%190%%" title_font="Raleway Light|||on|" title_font_size="18″ use_border_color="off" border_color="#ffffff" border_style="solid" disabled="off" saved_tabs="all" global_module="12345″]
<p><div class="et_pb_portfolio_grid clearfix et_pb_module et_pb_bg_layout_light et_pb_dpblog_portfolio_1″></p>
<p><div id="post-11435″ class="et_pb_portfolio_item et_pb_grid_item post-11435 type-post status-draft format-standard has-post-thumbnail hentry category-uncategorized"></p>
<p><a href="https://kitchenmeetsgirl.com/?p=11435″><br />
<span class="et_portfolio_image"><br />
<img src="https://kitchenmeetsgirl.com/wp-content/uploads/2017/01/freezer-guidelines.png" alt='The Ins and Outs of Freezer Storage' width='400′ height='284′ /> <span class="et_overlay et_pb_inline_icon" data-icon=""></span> </span><br />
</a></p>
<p><h2><a href="https://kitchenmeetsgirl.com/?p=11435″>The Ins and Outs of Freezer Storage</a></h2></p>
<p><a href="https://kitchenmeetsgirl.com/?p=11435″ class="more-link" >read more</a> </div> <!– .et_pb_portfolio_item –></p>
<p><div id="post-11416″ class="et_pb_portfolio_item et_pb_grid_item post-11416 type-post status-draft format-standard has-post-thumbnail hentry category-main-dishes category-healthier-options category-soups-and-salads"></p>
<p><a href="https://kitchenmeetsgirl.com/?p=11416″><br />
<span class="et_portfolio_image"><br />
<img src="https://kitchenmeetsgirl.com/wp-content/uploads/2017/01/Chicken-Queso-Soup-title.png" alt='Slow Cooker Chicken Queso Chili' width='400′ height='284′ /> <span class="et_overlay et_pb_inline_icon" data-icon=""></span> </span><br />
</a></p>
<p><h2><a href="https://kitchenmeetsgirl.com/?p=11416″>Slow Cooker Chicken Queso Chili</a></h2></p>
<p><a href="https://kitchenmeetsgirl.com/?p=11416″ class="more-link" >read more</a> </div> <!– .et_pb_portfolio_item –></p>
<p><div id="post-11399″ class="et_pb_portfolio_item et_pb_grid_item post-11399 type-post status-draft format-standard has-post-thumbnail hentry category-uncategorized tag-free-printable tag-freezer-inventory-list tag-kitchen tag-organizing"></p>
<p><a href="https://kitchenmeetsgirl.com/?p=11399″><br />
<span class="et_portfolio_image"><br />
<img src="https://kitchenmeetsgirl.com/wp-content/uploads/2017/01/freezer-inventory.png" alt='Why You Should Keep a Freezer Inventory List' width='400′ height='284′ /> <span class="et_overlay et_pb_inline_icon" data-icon=""></span> </span><br />
</a></p>
<p><h2><a href="https://kitchenmeetsgirl.com/?p=11399″>Why You Should Keep a Freezer Inventory List</a></h2></p>
<p><a href="https://kitchenmeetsgirl.com/?p=11399″ class="more-link" >read more</a> </div> <!– .et_pb_portfolio_item –><br />
</div> <!– .et_pb_portfolio –><div class="pagination clearfix"><br />
<div class="alignleft"><a href="https://kitchenmeetsgirl.com/wp-admin/admin-ajax.php?paged=2″ >« Older Entries</a></div><br />
<div class="alignright"></div><br />
</div></p>
[/et_pb_dpblog_portfolio]
<p><div class="et_pb_portfolio_grid clearfix et_pb_module et_pb_bg_layout_light et_pb_dpblog_portfolio_1″></p>
<p><div id="post-11435″ class="et_pb_portfolio_item et_pb_grid_item post-11435 type-post status-draft format-standard has-post-thumbnail hentry category-uncategorized"></p>
<p><a href="https://kitchenmeetsgirl.com/?p=11435″><br />
<span class="et_portfolio_image"><br />
<img src="https://kitchenmeetsgirl.com/wp-content/uploads/2017/01/freezer-guidelines.png" alt='The Ins and Outs of Freezer Storage' width='400′ height='284′ /> <span class="et_overlay et_pb_inline_icon" data-icon=""></span> </span><br />
</a></p>
<p><h2><a href="https://kitchenmeetsgirl.com/?p=11435″>The Ins and Outs of Freezer Storage</a></h2></p>
<p><a href="https://kitchenmeetsgirl.com/?p=11435″ class="more-link" >read more</a> </div> <!– .et_pb_portfolio_item –></p>
<p><div id="post-11416″ class="et_pb_portfolio_item et_pb_grid_item post-11416 type-post status-draft format-standard has-post-thumbnail hentry category-main-dishes category-healthier-options category-soups-and-salads"></p>
<p><a href="https://kitchenmeetsgirl.com/?p=11416″><br />
<span class="et_portfolio_image"><br />
<img src="https://kitchenmeetsgirl.com/wp-content/uploads/2017/01/Chicken-Queso-Soup-title.png" alt='Slow Cooker Chicken Queso Chili' width='400′ height='284′ /> <span class="et_overlay et_pb_inline_icon" data-icon=""></span> </span><br />
</a></p>
<p><h2><a href="https://kitchenmeetsgirl.com/?p=11416″>Slow Cooker Chicken Queso Chili</a></h2></p>
<p><a href="https://kitchenmeetsgirl.com/?p=11416″ class="more-link" >read more</a> </div> <!– .et_pb_portfolio_item –></p>
<p><div id="post-11399″ class="et_pb_portfolio_item et_pb_grid_item post-11399 type-post status-draft format-standard has-post-thumbnail hentry category-uncategorized tag-free-printable tag-freezer-inventory-list tag-kitchen tag-organizing"></p>
<p><a href="https://kitchenmeetsgirl.com/?p=11399″><br />
<span class="et_portfolio_image"><br />
<img src="https://kitchenmeetsgirl.com/wp-content/uploads/2017/01/freezer-inventory.png" alt='Why You Should Keep a Freezer Inventory List' width='400′ height='284′ /> <span class="et_overlay et_pb_inline_icon" data-icon=""></span> </span><br />
</a></p>
<p><h2><a href="https://kitchenmeetsgirl.com/?p=11399″>Why You Should Keep a Freezer Inventory List</a></h2></p>
<p><a href="https://kitchenmeetsgirl.com/?p=11399″ class="more-link" >read more</a> </div> <!– .et_pb_portfolio_item –><br />
</div> <!– .et_pb_portfolio –><div class="pagination clearfix"><br />
<div class="alignleft"><a href="https://kitchenmeetsgirl.com/wp-admin/admin-ajax.php?paged=2″ >« Older Entries</a></div><br />
<div class="alignright"></div><br />
</div></p>
[/et_pb_dpblog_portfolio]
[et_pb_dpblog_portfolio admin_label="Featured Posts" fullwidth="off" posts_number="1″ custom_post_types="post" include_categories="123″ show_title="off" lightbox="off" popup="off" custom_url="off" custom_fields="off" show_categories="off" show_date="off" show_excerpt="off" show_more="off" show_pagination="off" background_layout="light" zoom_icon_color="#85e0d4″ hover_icon="%%190%%" title_font="Raleway Light|||on|" title_font_size="18″ use_border_color="off" border_color="#ffffff" border_style="solid" disabled="off" saved_tabs="all" global_module="12349″]
<p><div class="et_pb_portfolio_grid clearfix et_pb_module et_pb_bg_layout_light et_pb_dpblog_portfolio_1″></p>
<p><div id="post-11435″ class="et_pb_portfolio_item et_pb_grid_item post-11435 type-post status-draft format-standard has-post-thumbnail hentry category-uncategorized"></p>
<p><a href="https://kitchenmeetsgirl.com/?p=11435″><br />
<span class="et_portfolio_image"><br />
<img src="https://kitchenmeetsgirl.com/wp-content/uploads/2017/01/freezer-guidelines.png" alt='The Ins and Outs of Freezer Storage' width='400′ height='284′ /> <span class="et_overlay et_pb_inline_icon" data-icon=""></span> </span><br />
</a></p>
<p><h2><a href="https://kitchenmeetsgirl.com/?p=11435″>The Ins and Outs of Freezer Storage</a></h2></p>
<p><a href="https://kitchenmeetsgirl.com/?p=11435″ class="more-link" >read more</a> </div> <!– .et_pb_portfolio_item –></p>
<p><div id="post-11416″ class="et_pb_portfolio_item et_pb_grid_item post-11416 type-post status-draft format-standard has-post-thumbnail hentry category-main-dishes category-healthier-options category-soups-and-salads"></p>
<p><a href="https://kitchenmeetsgirl.com/?p=11416″><br />
<span class="et_portfolio_image"><br />
<img src="https://kitchenmeetsgirl.com/wp-content/uploads/2017/01/Chicken-Queso-Soup-title.png" alt='Slow Cooker Chicken Queso Chili' width='400′ height='284′ /> <span class="et_overlay et_pb_inline_icon" data-icon=""></span> </span><br />
</a></p>
<p><h2><a href="https://kitchenmeetsgirl.com/?p=11416″>Slow Cooker Chicken Queso Chili</a></h2></p>
<p><a href="https://kitchenmeetsgirl.com/?p=11416″ class="more-link" >read more</a> </div> <!– .et_pb_portfolio_item –></p>
<p><div id="post-11399″ class="et_pb_portfolio_item et_pb_grid_item post-11399 type-post status-draft format-standard has-post-thumbnail hentry category-uncategorized tag-free-printable tag-freezer-inventory-list tag-kitchen tag-organizing"></p>
<p><a href="https://kitchenmeetsgirl.com/?p=11399″><br />
<span class="et_portfolio_image"><br />
<img src="https://kitchenmeetsgirl.com/wp-content/uploads/2017/01/freezer-inventory.png" alt='Why You Should Keep a Freezer Inventory List' width='400′ height='284′ /> <span class="et_overlay et_pb_inline_icon" data-icon=""></span> </span><br />
</a></p>
<p><h2><a href="https://kitchenmeetsgirl.com/?p=11399″>Why You Should Keep a Freezer Inventory List</a></h2></p>
<p><a href="https://kitchenmeetsgirl.com/?p=11399″ class="more-link" >read more</a> </div> <!– .et_pb_portfolio_item –><br />
</div> <!– .et_pb_portfolio –><div class="pagination clearfix"><br />
<div class="alignleft"><a href="https://kitchenmeetsgirl.com/wp-admin/admin-ajax.php?paged=2″ >« Older Entries</a></div><br />
<div class="alignright"></div><br />
</div></p>
[/et_pb_dpblog_portfolio]
[widget id="categories-7"]
[widget id="collapsarch-4"]