Sugar-Crusted Raspberry-Blueberry Muffins
I hadn't planned on posting this weekend, but here's what happened.
I woke up at 5:00 am Saturday morning and couldn't get back to sleep.
And instead of being productive, and say, starting housework or laundry, I decided to bake these: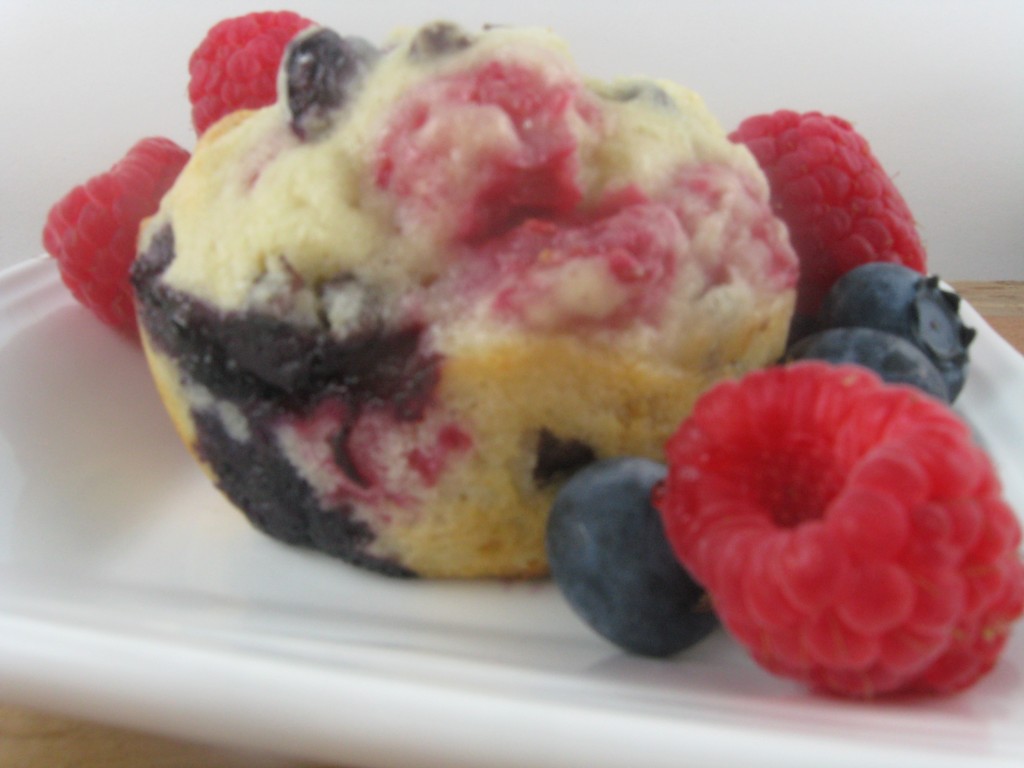 Why? Because I was hungry, I had all the ingredients, and I hadn't yet had enough caffeine to talk myself into cleaning the bathrooms. Also, I was irritated I actually had a morning to sleep in and couldn't do it.
Baked goods make me feel better.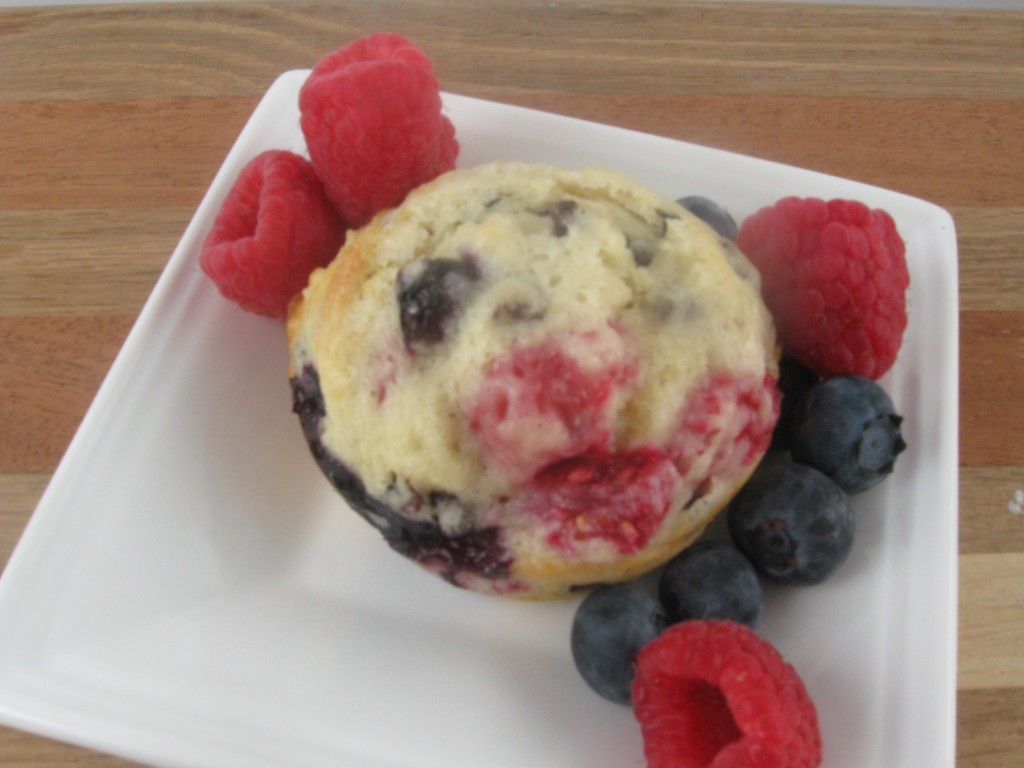 Recipe: Sugar-Crusted Raspberry-Blueberry Muffins
Ingredients
2 cups all-purpose flour
3/4 cup sugar
2 teaspoons baking powder
1/4 teaspoon salt
1/2 cup (1 stick) unsalted butter, melted 3/4 cup whole milk
1 large egg
1/4 teaspoon vanilla extract
1/2 cup mini-chocolate chips
3/4 cup raspberries
3/4 cup blueberries
Instructions
In a medium bowl, combine 1 3/4 cups of the flour, 1/2 cup of the sugar, the baking powder, and salt. Add the butter and combine.
In a second bowl, whisk together the milk, egg, and vanilla.
Gradually add the milk mixture to the flour mixture and stir until just combined; the batter will be lumpy.
Stir in chocolate chips.
Toss the berries with the remaining flour in a bowl. Gently fold the berry mixture into the batter.
Fill each muffin cup 3/4 full and sprinkle the batter with the remaining sugar.
Bake at 400 for 15 to 17 minutes; makes 12 muffins.
Recipe adapted from Real Simple
10 EASY SLOW COOKER MEALS RECIPE BOOK
Interestingly enough, I didn't grow up with an interest in cooking.  In fact, I informed my mother on multiple occasions that I was not getting an advanced education so I could spend my evenings preparing meals.
<p><div class="et_pb_portfolio_grid clearfix et_pb_module et_pb_bg_layout_light et_pb_dpblog_portfolio_1″></p>
<p><div id="post-11435″ class="et_pb_portfolio_item et_pb_grid_item post-11435 type-post status-draft format-standard has-post-thumbnail hentry category-uncategorized"></p>
<p><a href="https://kitchenmeetsgirl.com/?p=11435″><br />
<span class="et_portfolio_image"><br />
<img src="https://kitchenmeetsgirl.com/wp-content/uploads/2017/01/freezer-guidelines.png" alt='The Ins and Outs of Freezer Storage' width='400′ height='284′ /> <span class="et_overlay et_pb_inline_icon" data-icon=""></span> </span><br />
</a></p>
<p><h2><a href="https://kitchenmeetsgirl.com/?p=11435″>The Ins and Outs of Freezer Storage</a></h2></p>
<p><a href="https://kitchenmeetsgirl.com/?p=11435″ class="more-link" >read more</a> </div> <!– .et_pb_portfolio_item –></p>
<p><div id="post-11416″ class="et_pb_portfolio_item et_pb_grid_item post-11416 type-post status-draft format-standard has-post-thumbnail hentry category-main-dishes category-healthier-options category-soups-and-salads"></p>
<p><a href="https://kitchenmeetsgirl.com/?p=11416″><br />
<span class="et_portfolio_image"><br />
<img src="https://kitchenmeetsgirl.com/wp-content/uploads/2017/01/Chicken-Queso-Soup-title.png" alt='Slow Cooker Chicken Queso Chili' width='400′ height='284′ /> <span class="et_overlay et_pb_inline_icon" data-icon=""></span> </span><br />
</a></p>
<p><h2><a href="https://kitchenmeetsgirl.com/?p=11416″>Slow Cooker Chicken Queso Chili</a></h2></p>
<p><a href="https://kitchenmeetsgirl.com/?p=11416″ class="more-link" >read more</a> </div> <!– .et_pb_portfolio_item –></p>
<p><div id="post-11399″ class="et_pb_portfolio_item et_pb_grid_item post-11399 type-post status-draft format-standard has-post-thumbnail hentry category-uncategorized tag-free-printable tag-freezer-inventory-list tag-kitchen tag-organizing"></p>
<p><a href="https://kitchenmeetsgirl.com/?p=11399″><br />
<span class="et_portfolio_image"><br />
<img src="https://kitchenmeetsgirl.com/wp-content/uploads/2017/01/freezer-inventory.png" alt='Why You Should Keep a Freezer Inventory List' width='400′ height='284′ /> <span class="et_overlay et_pb_inline_icon" data-icon=""></span> </span><br />
</a></p>
<p><h2><a href="https://kitchenmeetsgirl.com/?p=11399″>Why You Should Keep a Freezer Inventory List</a></h2></p>
<p><a href="https://kitchenmeetsgirl.com/?p=11399″ class="more-link" >read more</a> </div> <!– .et_pb_portfolio_item –><br />
</div> <!– .et_pb_portfolio –><div class="pagination clearfix"><br />
<div class="alignleft"><a href="https://kitchenmeetsgirl.com/wp-admin/admin-ajax.php?paged=2″ >« Older Entries</a></div><br />
<div class="alignright"></div><br />
</div></p>
[/et_pb_dpblog_portfolio]