The "Why Won't My Pants Button Anymore?" Brownie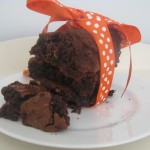 I'm a planner, down to the most minute detail. I have to-do lists made every day—for work, for home…you name it, I've got it on a list. I love the feeling of satisfaction when I cross something off my list. When I complete a project or finish a successfully planned event, I do a little happy dance. It's fun. I'm giddy. I feel like I've got it under control as long as my lists are in order (really, I'm not as neurotic as I sound. I've just got too many balls in the air not to attempt some form of organization).
But I don't handle it well when things don't go according to plan. And the week Doodlebug turned four…things did not go as planned.
I was busy planning my son's fourth birthday party. Because I am certifiably crazy, and because my cute little Doodlebug asked me, I made and decorated a basketball cake, basketball sugar cookies, cake balls and cupcakes. Not to mention trying to prepare food for the twenty-five or so friends or family we were having over on the weekend for the big to-do. I had my lists in order, my schedule planned. Everything was on track.
Until mid-week when my husband got in the car to leave for work. And it wouldn't start. The garage door wouldn't open. And the 2,700 gallon pool we'd just filled for the kids to play in during the party? Totally empty. No clue how it happened, or how we would manage to find the time to get it repaired in time for the party. I took a deep breath and told myself in the big scheme of things, none of this stuff was really a big deal. And it's really not. But knowing that didn't reduce my stress level, so I did what any other rational person would do.
I made these: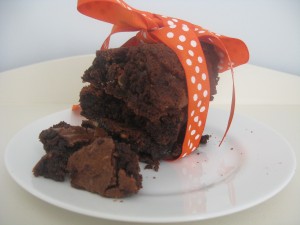 Preheat your oven to 325. Line a 13 x 9 pan with aluminum foil, extending the foil over the edge of your pan so you can easily get them out to stuff your face with serve later.
In a small bowl, combine flour, cocoa, baking powder, baking soda, salt, and cinnamon. Set aside.
In your mixer bowl, beat 1 1/2 cups of butter, melted, with 1 1/2 cups white sugar and 1 1/2 cups light brown sugar until smooth. That's right. Three sticks of butter. I'm channeling my inner Paula Deen.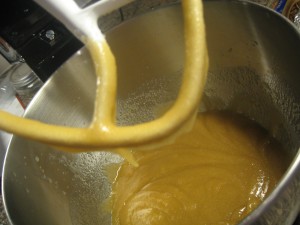 Add eggs, coffee, and vanilla, beating until just blended. Then add your flour mixture, and mix until moistened. Yum! It's a river of chocolate.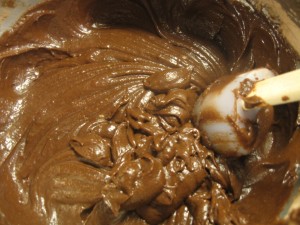 Next, stir in your chips. I wanted to add some chopped up Reese's Peanut Butter Cups, but the Tall Boy told me it was overkill.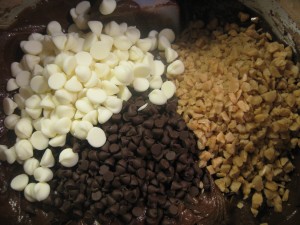 Don't judge. These are totally fabulous and worth it. Go for the peanut butter cups, too. I wish I had.
Spoon the batter into your prepared pan, and bake at 325 for 55 minutes. Do some Zumba while you're waiting, and maybe it will all even out.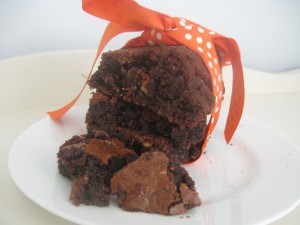 Or maybe it won't.
The Why Won't My Pants Button Anymore? Brownie – click to print
Ingredients:
1 1/2 cups flour
1 cup unsweetened cocoa
1/2 teaspoon baking powder
1/4 teaspoon baking soda
1/4 teaspoon salt
1 teaspoon cinnamon
1 1/2 cups butter, melted
1 1/2 cups sugar
1 1/2 cups light brown sugar
4 eggs
1/4 cup coffee (I used vanilla, but French Roast would also work great)
2 teaspoons vanilla
1/2 cup chocolate chips
1/2 cup white chocolate chips
1/2 cup toffee pieces
Preparation Instructions
Line a 13×9 pan with foil, and preheat your oven to 320.
Combine first six ingredients in a small bowl.
Beat butter and sugars until smooth. Add eggs, coffee and vanilla, beating until just blended.
Add flour mixture; stir to combine.
Stir in chips.
Spoon into prepared pan. Bake at 325 for approximately 55 minutes.
10 EASY SLOW COOKER MEALS RECIPE BOOK
Interestingly enough, I didn't grow up with an interest in cooking.  In fact, I informed my mother on multiple occasions that I was not getting an advanced education so I could spend my evenings preparing meals.
<p><div class="et_pb_portfolio_grid clearfix et_pb_module et_pb_bg_layout_light et_pb_dpblog_portfolio_1″></p>
<p><div id="post-11435″ class="et_pb_portfolio_item et_pb_grid_item post-11435 type-post status-draft format-standard has-post-thumbnail hentry category-uncategorized"></p>
<p><a href="https://kitchenmeetsgirl.com/?p=11435″><br />
<span class="et_portfolio_image"><br />
<img src="https://kitchenmeetsgirl.com/wp-content/uploads/2017/01/freezer-guidelines.png" alt='The Ins and Outs of Freezer Storage' width='400′ height='284′ /> <span class="et_overlay et_pb_inline_icon" data-icon=""></span> </span><br />
</a></p>
<p><h2><a href="https://kitchenmeetsgirl.com/?p=11435″>The Ins and Outs of Freezer Storage</a></h2></p>
<p><a href="https://kitchenmeetsgirl.com/?p=11435″ class="more-link" >read more</a> </div> <!– .et_pb_portfolio_item –></p>
<p><div id="post-11416″ class="et_pb_portfolio_item et_pb_grid_item post-11416 type-post status-draft format-standard has-post-thumbnail hentry category-main-dishes category-healthier-options category-soups-and-salads"></p>
<p><a href="https://kitchenmeetsgirl.com/?p=11416″><br />
<span class="et_portfolio_image"><br />
<img src="https://kitchenmeetsgirl.com/wp-content/uploads/2017/01/Chicken-Queso-Soup-title.png" alt='Slow Cooker Chicken Queso Chili' width='400′ height='284′ /> <span class="et_overlay et_pb_inline_icon" data-icon=""></span> </span><br />
</a></p>
<p><h2><a href="https://kitchenmeetsgirl.com/?p=11416″>Slow Cooker Chicken Queso Chili</a></h2></p>
<p><a href="https://kitchenmeetsgirl.com/?p=11416″ class="more-link" >read more</a> </div> <!– .et_pb_portfolio_item –></p>
<p><div id="post-11399″ class="et_pb_portfolio_item et_pb_grid_item post-11399 type-post status-draft format-standard has-post-thumbnail hentry category-uncategorized tag-free-printable tag-freezer-inventory-list tag-kitchen tag-organizing"></p>
<p><a href="https://kitchenmeetsgirl.com/?p=11399″><br />
<span class="et_portfolio_image"><br />
<img src="https://kitchenmeetsgirl.com/wp-content/uploads/2017/01/freezer-inventory.png" alt='Why You Should Keep a Freezer Inventory List' width='400′ height='284′ /> <span class="et_overlay et_pb_inline_icon" data-icon=""></span> </span><br />
</a></p>
<p><h2><a href="https://kitchenmeetsgirl.com/?p=11399″>Why You Should Keep a Freezer Inventory List</a></h2></p>
<p><a href="https://kitchenmeetsgirl.com/?p=11399″ class="more-link" >read more</a> </div> <!– .et_pb_portfolio_item –><br />
</div> <!– .et_pb_portfolio –><div class="pagination clearfix"><br />
<div class="alignleft"><a href="https://kitchenmeetsgirl.com/wp-admin/admin-ajax.php?paged=2″ >« Older Entries</a></div><br />
<div class="alignright"></div><br />
</div></p>
[/et_pb_dpblog_portfolio]